Kamali has been surfing since the age of three.
With bated breath, the surfing community awaited news on the Indian surfing scene. Mamallapuram's Kamalimurthy has been selected by eight-time world champion Stephanie Gilmore as one of the world's top three upcoming surf stars in association with popular surf gear and accessories brand Roxy. The purpose of the Surf With Staff program is to select and provide a platform for surfing prodigies worldwide. Roxy, an American women's lifestyle brand organizes various such initiatives. And this time, 13-year-old Kamali is the first woman from India to make it to the coveted category.
It was Kamali's dream to surf with the Australian champion for a month. She will also receive a replica of Stephanie's winning world title board and a year's worth of surfing products sponsored by Roxy. Stephanie's calendar is filled with competitions in Portugal, Brazil, South Africa, and French Polynesia. And as soon as she gets a month off, Kamali will join her on the floor she is on. During this time, the junior surfer will get to learn technique and style from the pro.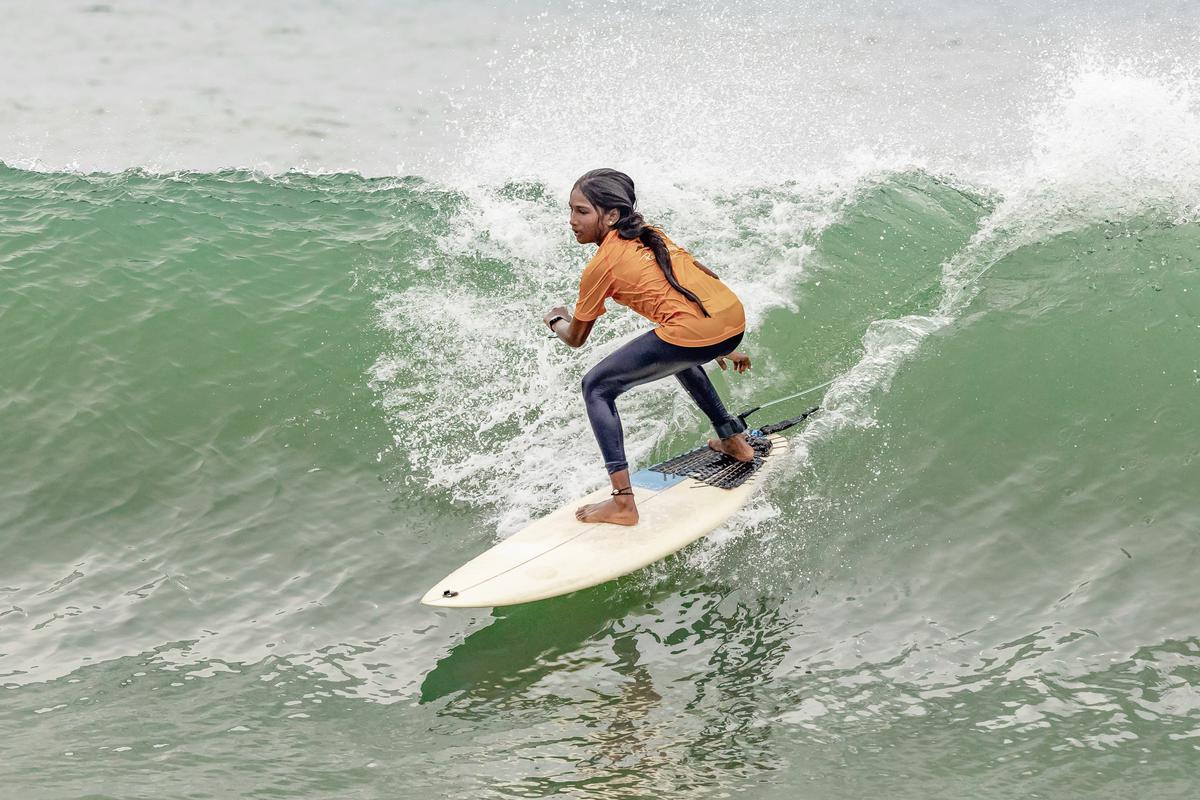 She is the current title holder of the Mahabalipuram Surf Competition.
It all started when Kamali's mentor, Iain Edwards, saw a post by Stephanie asking for entries. Ain then pulled out all the videos she had been collecting over the past 10 years, compiled a story and submitted it on Kamali's behalf. Thousands of applications were received over the next month from women of all age groups.
Did Kamali get a chance?
Yes. Because when Kamali surfs, everyone stops to watch. She has been surfing since she was a little girl of three. Beaming with happiness, she gazes at the waves, always having the best time with her best friend the sea. She practices five hours a day. His hard work was evident in his videos that Stephanie reviewed.
Kamali was the first to make it to the top 12. The top 12 were then put through a public voting domain to narrow down to the top six. Kamali was up against another talented surfer and managed to get 84% of the votes. From that list, Stephanie then chose the top three.
The driving force behind Kamali's selection is the persistence of Iain Edwards, the power of social media, and a surfing community that came together to bring him to the world stage. Surfers in this country are beaming with pride and joy as they look forward to the next phase of this young star surfer's life. And now this little girl from a small coastal village is on her way to conquer the world.