Gear Review Googles, Kuldeep Chaudhary / Autocar India | Photo credit: Kuldeep Chaudhary
The T SP X Superair may have a mouthful name, but it's the most affordable jacket in Alpinestars' current lineup. It's a mesh jacket that works even in hot weather, while also providing style and comfort for urban biking.
As the name suggests, the focus is on ventilation and the Super Air has massive ventilation panels that run across the chest and back areas, as well as a significant portion of the arms. Mesh isn't made of a great material, so the jacket comes in 600D polyester in key impact areas like the shoulders and outer arms. There's some stretch material sewn in behind the elbows for a comfortable fit, but not behind the shoulders where you'd normally expect to find it. Both the arm cuffs and collar have Velcro closures and both pockets have pull tabs on the zippers that make them easy to find when wearing gloves.
The style element is brought in by the Alpinestars logo embroidered on the chest, shoulders and lower back. Several color options are available, including a bright red and blue. We chose subtle black on black. The back also gets a black reflective strip that runs down the center, but that has started to show small signs of wear after about 10 washes.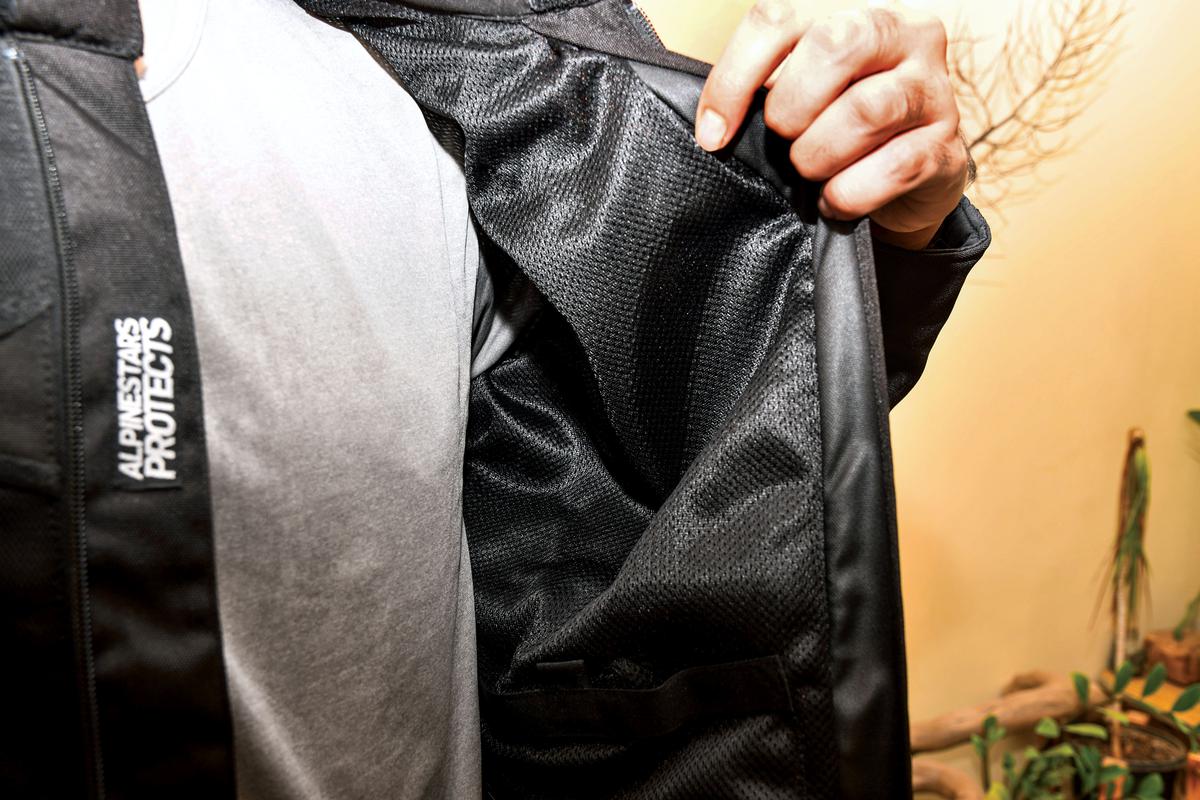 Gear Review Googles, Kuldeep Chaudhary / Autocar India | Photo credit: Kuldeep Chaudhary
The fit is longer and more generous than expected, and it doesn't have a sporty cut. What's cool is that this jacket is designed to be compatible with the Alpinestars Tech Air 5 airbag vest. The inner mesh liner has a slight stretch to it and feels comfortable against the skin. However, like the Ram Jet Air pants, the liner size feels bulky and can get your hands caught when putting on or taking off the jacket.
Protection comes in the form of Alpinestars Nucleon Flex Plus armor in the shoulders and elbows. This armor is thin and low profile, which is nice, but it's only CE level 1. As for the back armor, you have to buy it separately. Another downside is that this jacket doesn't come with pockets for the optional chest armor. This is one area where gear from leading Indian manufacturers outperforms international gear well as they ship with CE level 2 armor for much less.
The Superair jacket is not yet available in India but is expected to be priced around ₹17,000 when it arrives here.