AS Murali with AG Venkata Subramaniam (violin); Tiruchirai Kaushik on Mridangam and Mudipakkam Murali on Ghatam. | Photo credit: Special Arrangements
AS Murali's melodious voice, soulful singing and candor draw you into his music almost instantly. A music lecturer at the Kalakshetra Foundation, Murali performed at Kedaram Isa, dedicated to Guru Par Excellence PS Narayan Swamy.
Hailing from the Seemangudi Srinivasa Iyerbani, Murali opened the concert with the traditional varnam 'Sami Nanne' in Raga Sri. The varnaam, interspersed with intricate musical exercises, created energy in the concert. Performed in madhima kalam for pallavi and anupalvi parts, varnam moved to malkalam for charanam.
A compact and passionate Tamil composition by Tiruvarur Ramalingaswamy, dedicated to Lord Ganesha and set to raga gola, was soulful. Swarprastara with captivating patterns enhanced the tempo of the composition. A short but memorable alapana to raga Hussaini was followed by the Tyagaraj kriti, 'Ram Nene Nami Nano'.
In the 'Inaganu Rambhajana' in Kumavardhani/Pantovarali, a lot was described in Alappana which was not very long. Indeed, Alapana echoed the pleading quality inherent in Kriti. Narwal was very hot in 'Prema Meera'.
Murali delivers some brilliant lines with Narwal that have almost attained Kriti status.
His training at Ghatham can be seen in the way he handled the equestrian section – moving effortlessly through various mathematical combinations. The main part of the concert was composed on Raga Sankarabharanam. Hailed by scholars as the highest of the ragas, this Sarva Swara Gamaka raga offers a great deal of scope for detail. Murali followed with Sankarabharanam's brilliant performance. Elaborate and evocative, Alapana brings out Murali's imagination and perfect execution.
Murali rendered Tyagaraja Kriti as 'Endoku Padala' and as is the hallmark of the Semingodi style, the song was bright. Nirwal of 'Ved Shastra' reminded one of Seemangudi's AIR concert, in which he performed this kriti with Nirwal at the same venue. The fast and energetic Swarprastara riding several sequences and combinations gave this piece a special edge. Riders added a flood.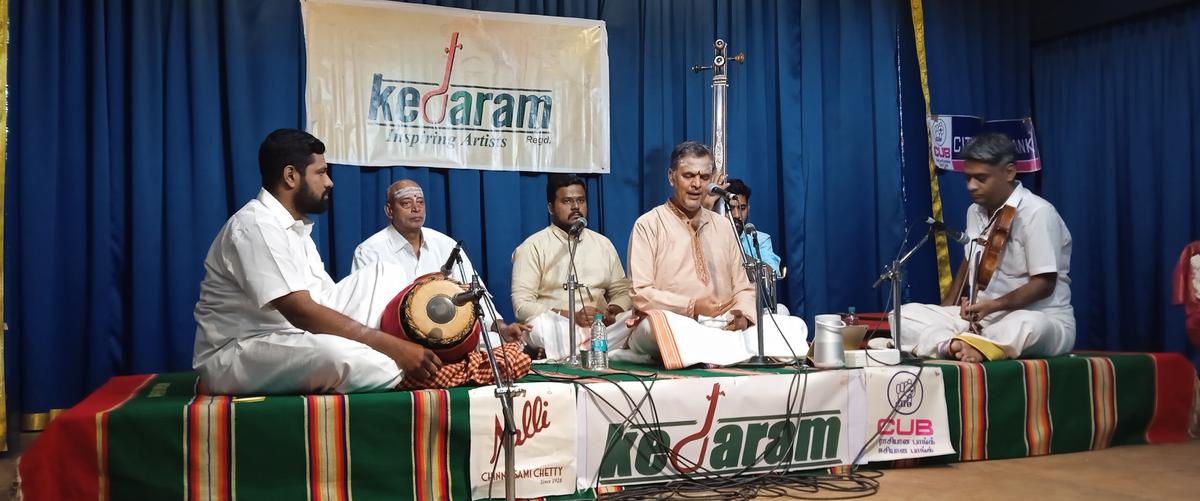 AS Murali with AG Venkata Subramaniam (Violin); Tiruchirai Kaushik on Mridangam and Mudipakkam Murali on Ghatam. | Photo credit: Special Arrangements
AG Venkata Subramaniam's interpretation of the (violin) ragas Kamurdhini and Sankarabharnam was a benchmark for him. He played very calmly without trying to impress. Tirucharai Kaushik on mridangam and Madipakam Murali on ghatham played with poise and poise.
Murali was accompanied by his disciples. In those days, when most concerts were virtuosic, a concert such as this one based on a commitment to classicism was a religious treat.