Delegates are seen as they inaugurate the "Bring Your Own Film Festival" (BYOFF) in Puri on Tuesday evening. | Photo credit: Special Arrangements
The sound of crashing waves mingles with excited chatter as the sun sets across the coast of Odisha. In a makeshift tent, filmmakers of various colors lounge in the breeze, soaking up the atmosphere. There is no hierarchy – all are equal in appreciation of the films shown and the free-flowing exchange of ideas.
For two decades, the Bring Your Own Film Festival (BYOFF), a unique event devoid of corporate sponsorship, has drawn both filmmakers and film lovers to this coastal city. The 20th edition of the event began on Tuesday and will witness the screening of more than 70 films from different genres, periods and parts of the country before concluding on February 25.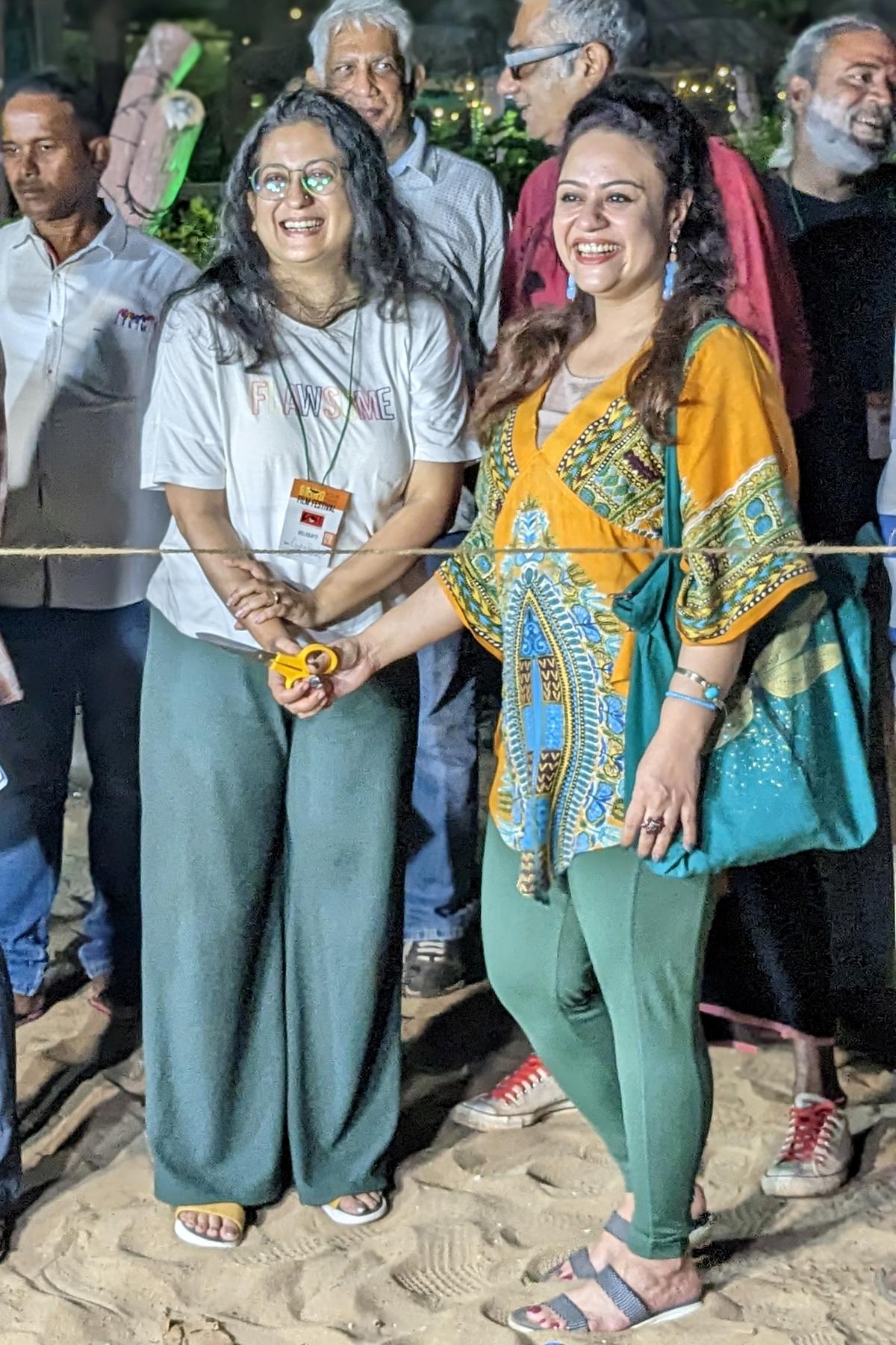 Delegates are seen as they inaugurate the "Bring Your Own Film Festival" (BYOFF) in Puri on Tuesday evening. | Photo credit: Special Arrangements
"The uniqueness of BYOFF lies in the approach of the organizers – there is no selection, no jury and no awards for the films to be screened. And anyone who has a film can show it here. There is no rating, There is no bureaucracy. It's just sun, sand, sea, cinema and more," said festival convener Susanta Mishra.
Low fees, high participation
Since 2004, filmmakers have been showcasing their creativity at BYOFF through short-duration or long-format films. Films are shown for hours and sometimes run until the wee hours of the morning. Mr. Mishra said that initially, temporary tents were set up for the festival, but the intense heat has forced the organizers to go for open-air screenings after sunset.
Registration fees are minimal, ranging from ₹350 to ₹2000 for a five-day period, including a free dinner for filmmakers.
Over the past two decades, more than 10,000 delegates and 3,500 filmmakers have attended. A filmmaker who can't find other platforms to showcase his work or faces rejection, will find BYOFF a great platform to share his art with film fans.
"My relationship with BYOFF is very emotional as I was among the first few attendees at the first edition of the festival. I have been here many times over the years. When I first came here, we thought we were doing it once. Film fans, not only from the eastern part of India, but people from Chennai, Mumbai and New Delhi came. It was such a beautiful gathering and we all really felt that there was some promise in it. So let's dream together. Can," said Q, a filmmaker from West Bengal who shortened his name to one syllable.
The filmmaker chose to premiere his film – Super Toshi, the story of a 'superheroine' who is a maid – at BYOFF instead of a major film festival.
Pitching opportunities
BYOFF is now evolving into its next phase as a pitching platform. This year, the festival has collaborated with AAO-Next, an Odia online OTT platform, so that young, upcoming filmmakers can develop their projects and get support to make their films.
Apart from film screenings, the festival also provides a platform for film lovers to showcase songs, dances, paintings, sculptures and photographs, present legislation, and share ideas. Talks about the art of making films are heard on every corner. There is no better place for new entrants to the world of cinema.
"BYOFF is an unusual film festival as it is not supported by any corporate house or government. It is a big platform for young generation filmmakers. Filmmakers have mentioned their participation here in their profiles. "The festival addresses the transition phase of a student graduating to being a professional filmmaker," said filmmaker and BYOFF core member Kapilash Bhuyan.