Restobar on Sunday Photo credit: Velankani Raj B
In the heart of bustling Annanagar, there is now a new restobar for casual dining, elegant cocktails and conversation. Sunday is run by mother-daughter duo Anitha Sivakumar and Shivta Sivakumar. In its previous life, the site housed the Hideout Bistro. Now, it aspires to be a "daily trip" to Chennai.
"While the pub and restobar culture is growing in Chennai, there is no place where one can drink and listen to each other. My daughters and their friends always go to Bengaluru or Goa because 'that's the scene'. I Wanted to bring that scene here," says Sunday's managing director Anitha.
There are comfortable teal sofas that can seat a party of six and tables in the courtyard for smaller groups. The space is filled with natural light, quirky decor and greenery. The bar is tucked away in a dimly lit corner filled with retro art for those wanting a pub experience.
"We all eat and enjoy through our phone cameras first. So while putting the space together, I made sure I always clicked a picture before approving the design. Photographs well. I'll have a cocktail and click pictures under each light to see what works," says Shweta R, joint managing director.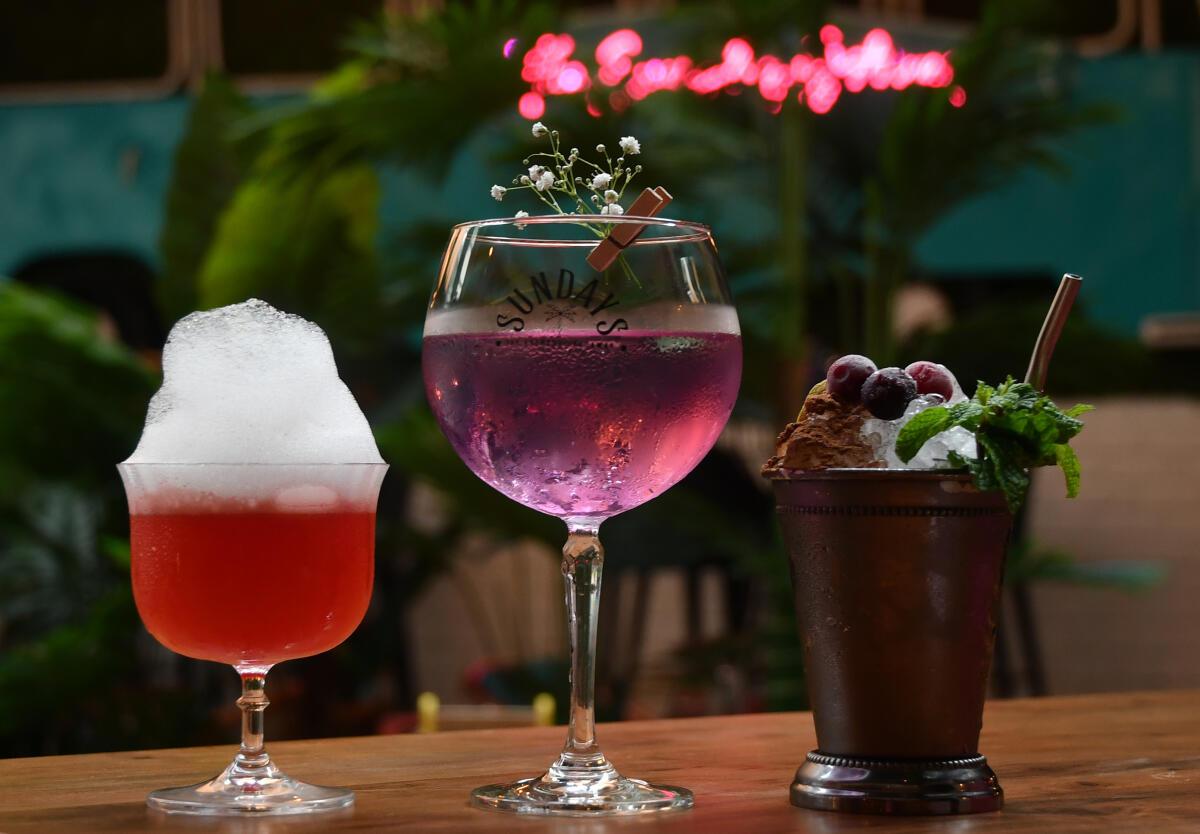 Signature Cocktails – From Left: Bubble Bath, Purple Rain and Matinee Show | Photo credit: Velankani Raj B
Purple Rain, one of their signature cocktails, captures the image really well. It is a gin-based drink made with elderflower, tonic water and blue pea flowers. It's refreshing, if sweet. Shweta also recommends Golden Hour in the Jin line. It's like a jolt of energy from a cold brew and tonic water.
The food menu of the restobar is extensive and has Indian, Chinese, Italian and European cuisine options. We try the paneer ghee roast. The dish is properly spiced, tangy and not overdone with ghee. There is also a type of chicken.
Mixed Broccoli | Photo credit: Velankani Raj B
On the other hand, Malay broccoli florets are cooked in a creamy white gravy but retain a fresh crunch.
We also try their Braised Broccoli. The flowers are cooked in a creamy white gravy but the fresh crunch remains intact.
At the other end of the spectrum is Andhra Chilli Chicken. Made with green chilies, it is served with a waiter's warning. While the first bite makes one wonder if this is just hype, subsequent chews unveil the spice.
"In the two and a half years it took to put this place together, we've tasted the entire menu many times. Don Biryani or ghee roasts are legendary dishes and have been modified many times to get the authentic taste," says Anitha.
Anitha says she has 12 years of experience as a restaurateur while Shweta was a hotel management student and ran Hideout Bistro.
"Being a mother-daughter team that runs a restobar, we are breaking a lot of boundaries. Now I am going to run the show and she will take a back seat and oversee things," says Shweta.
A meal for two on Sundays, including drinks, costs ₹2,000. It is located at Sundays – 101 D Block 6th Street, Anna Nagar East., Chennai, Tamil Nadu 600102.