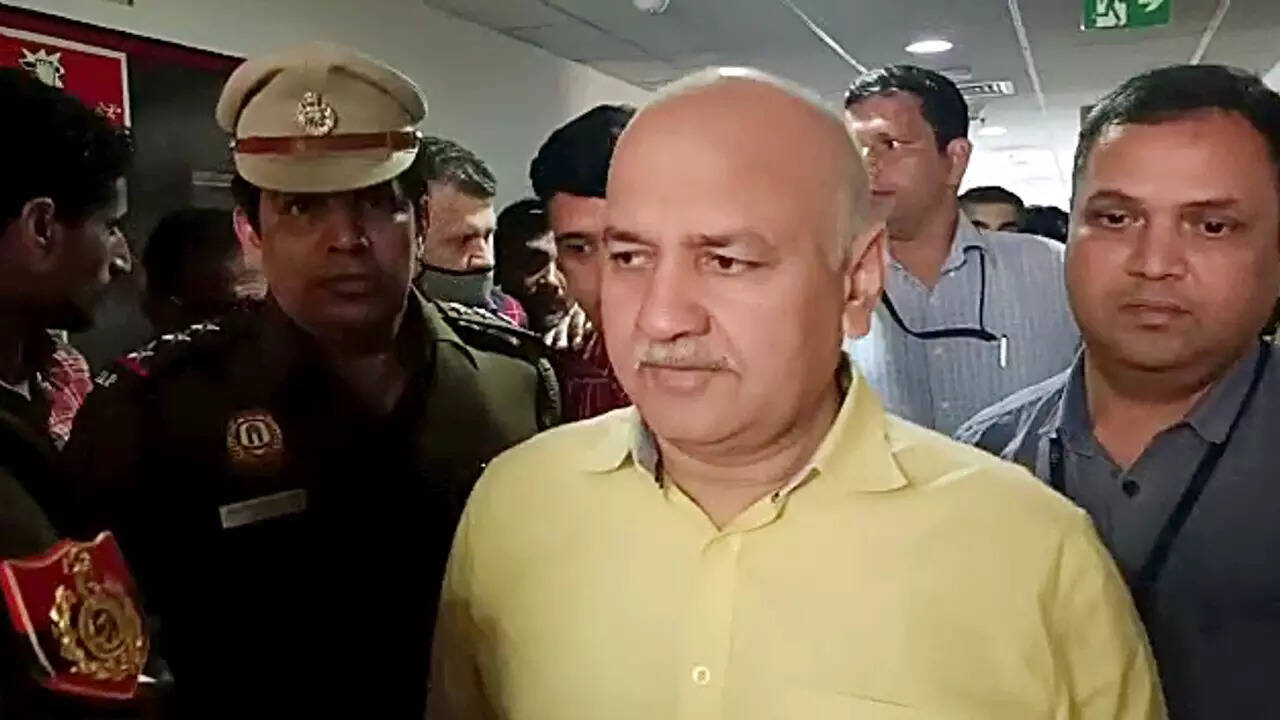 New Delhi: The Congress Officially, a studied and interesting silence has been maintained over the arrest of the former Deputy Chief Minister of Delhi. Manish Sisodia by the Central Bureau of Investigation (CBIIn the Excise Police case on February 26. The stance adopted by the Congress reflects its continued strained relationship with the Aam Aadmi Party led by Delhi Chief Minister Arvind Kejriwal.AAP).
Most senior Congress leaders are refraining from directly commenting on Sisodia's arrest. So far no press conference has been held by the Congress on this matter. There have been no social media posts from the official Congress handle or spokespersons.
Congress sources, on condition of anonymity, told TOI that the party is returning to AAP in the same coin that does not stand with it. Sisodia Arrest He said that AAP had not supported the Congress when its two top leaders – then party president Sonia Gandhi and her son Rahul Gandhi – were summoned by the Enforcement Directorate (ED) on several occasions and Was questioned.
Ajay Maken
As events unfolded, the only senior Congress leader who not only spoke about the arrest but also supported the CBI action is former Union Minister Ajay Maken. Speaking to news agency ANI, he tried to tell the Congress leaders that the Kejriwal government allegedly used the proceeds from the liquor business against their party in the 2022 Goa assembly elections.
"I tell people who sympathize with Manish Sisodia that this is an open and shut case of corruption," Makin said. This should be seen as a major liquor scam in Delhi.
The former Congress general secretary said that although Kejriwal and AAP were complaining of abuses against Sisodia, his government constituted a committee on 4 September 2020 to recommend changes in the excise policy. "However, the government did exactly the opposite of the committee's recommendation to curb corruption."
Makin was of the view that the committee asked the Government to take control of the wholesale like Karnataka. But the AAP government privatized it. He said that earlier there used to be 6 percent commission which the government increased to 12 percent. "Now it has been proved that the Delhi government has withdrawn 6% after increasing the commission to 12%. If this is not corruption, what is it?" he said.
"A money trail of at least Rs 100 crore has been detected. This money was used by AAP against Congress in the Goa assembly elections. I would like to ask all Congress leaders to understand that AAP has used this money," Makin said. The money was used against the party.The money was used to collude with and support anti-national forces.
"It is the same AAP that fought against corruption. It is a pity that AAP, which was formed to create the Lokpal, has forgotten the Lokpal and today is in the liquor business," said the former president of the Delhi unit of the Congress. Gone. They are using political use and money against Congress. This is what I want to tell all Congress leaders.
Maken had addressed two press conferences on the Delhi government from the Congress headquarters in the national capital. Liquor policy – One last month and the other last year. However, Congress has not held any press conference after Sisodia's arrest.
Jay Ram Ramesh
No other Congress leader has come like Maken. The only official response came nearly 24 hours after the CBI took Sisodia into custody after an eight-hour interrogation. In a post on Twitter, Congress general secretary and communications chief Jairam Ramesh attacked the Narendra Modi government for "targeting" opposition leaders by agencies like the ED, CBI and the Income Tax (IT) department. What did
However, the Rajya Sabha MP did not mention Sisodia's name in his tweet. He said, "@INCIndia has always believed that institutions like ED, CBI and Income Tax Department have become instruments of political vendetta and harassment under the Modi government. These institutions have lost all professionalism. Opposition leaders are selectively targeted to tarnish their reputation.
.@INCIndia has always believed that bodies like ED, CBI and Income Tax Department p… https://t.co/TOEQJLIqKA

— Jairam Ramesh (@Jairam_Ramesh) 1677508417000
Abhishek Manu Singhvi
Against Maken and Ramesh, Congress Rajya Sabha MP Abhishek Manu Singhvi was seen supporting Sisodia.
On February 26, he said in a tweet, "God be with you #Manishji. See such repeated, flagrant, indecent and shameless abuse of arresting power in Disturbing 2. #Sisodia is almost a After years of investigation and questioning, no flight risk, no evidence or witnesses or non-cooperation. How and why was he arrested after so long?
God be with you #Manishji. Hurtful 2c such repeated, flagrant, extreme and brazen abuse of arresting power.… https://t.co/SCORmxKhVB

— Abhishek Singhvi (@DrAMSinghvi) 1677405997000
However, the very next day Singhvi explained. He said, "It is obvious that my tweet on #Manish #Sisodia on 26/2/23 at 3.36 pm was in the context of my appearing as senior counsel for him in many cases and # Not from the Congress Party, though there is room. The interruptions left me inadvertently mentioning this fact.
It is clear that my tweet to #Manish #Sisodia on 26/2/23 at 336 pm was in the context of my appearance to him as… https://t.co/gA4LTJ3JZd

— Abhishek Singhvi (@DrAMSinghvi) 1677482977000
Jairam Ramesh retweeted Singhvi's second tweet clarifying his stand in the controversy. This may have been an indication of the Congress's official stand on the matter.


timesofindia.indiatimes.com