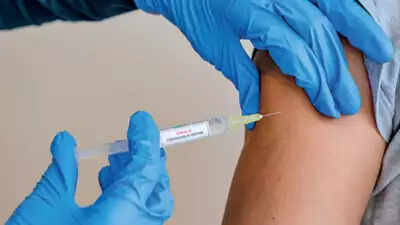 New Delhi: India managed to save more than 3.4 million lives by conducting an unprecedented nationwide Covid-19 vaccination campaign, says a Stanford University report.
The Covid vaccination campaign also had a positive economic impact by preventing losses of US$18.3 billion, according to a Stanford University and Institute for Competitiveness working paper titled 'Healing the Economy: Economic Impact of India's Vaccination and Related Issues'. Estimates' issued by the Union. Health Minister Mansakh Mandaviya said on Friday.
Mandavia said long before the World Health Organization (WHO) declared Covid-19 a public health emergency in January 2020, processes and structures were put in place to focus on various aspects of pandemic management. was
He addressed 'The India Dialogue' session on economic impact of vaccination and related issues in practice.
"India under the leadership of Hon'ble Prime Minister Mr Narendra Modi Adopt a 'whole of government' and 'whole of society' approach in a proactive, proactive and hierarchical manner, thereby adopting a comprehensive response strategy for effective management of Covid-19," the minister said.
The dialogue was organized by the Institute for Competitiveness and the US-Asia Technology Management Center, Stanford University.
The paper discusses the role of containment as a measure to prevent the spread of the virus. It highlighted that, compared to the top-down approach, a bottom-up approach was critical to controlling the virus.
Additionally, the report notably notes that strong initiatives at the ground level, such as contact tracing, mass testing, home quarantine, distribution of essential medical equipment, improving healthcare infrastructure and the Centre, state And continuous coordination among stakeholders at district levels not only helped to overcome this. spread of the virus but also in enhancing the health infrastructure.
It defines the three cornerstones of India's strategy – containment, relief package and vaccine administration.
It observes that these three measures were critical in saving lives and controlling the spread of Covid-19, ensuring economic activity, sustaining livelihoods and building immunity against the virus.
The working paper added that India was able to save more than 3.4 million lives by conducting an unprecedented nationwide vaccination campaign.
He said that vaccination campaign is always to save lives. However, the campaign also had a positive economic impact by preventing losses of US$18.3 billion, it added.
The report said that taking into account the cost of the vaccination campaign, the net benefit to the nation was US$ 15.42 billion.
Hailing the prime minister's decision to impose an early lockdown as a turning point, Mandaviya said it has prompted the government to implement its five-pronged strategy—test, track, treat, vaccinate, ban the community's response. Enabled to benefit from Covid appropriate behavior (CAB) and providing a swift and robust institutional response to combat Covid-19.
He said that the government has focused on enhancing the health infrastructure in terms of Covid-related beds, medicines, logistics i.e. N-95 masks, PPE kits and medical oxygen, as well as skilling human resources. Along with creating centers of excellence and digital solutions deployment has been focused on. E Sanjivani Telemedicine Service, Arogya SetuCovid-19 India Portal etc.
Equal weight was given to the expansion of the testing infrastructure at an unprecedented rate which exceeded the high figure of 917.8 million tests carried out. Additionally, a network of 52 labs for genomic surveillance was established to monitor emerging virus strains.
Building on this momentum, India launched the world's largest vaccination campaign, achieving 97 per cent coverage for the first dose and 90 per cent for the second dose, a total of 2.2 for eligible beneficiaries, the health minister said. Billion doses were given.
He added that the campaign focused on equal coverage for all, so vaccines were provided free of cost to all citizens.
"Campaigns and digital tools like 'Har Ghar Dastak', mobile vaccination teams as well as launch of Co-Win vaccine management platform were used to ensure last mile delivery," said Mandaviya.
He said that a key factor in the success of epidemic management was alleviating fear in the community through targeted information, education and communication, managing misinformation and infodemic.
A Stanford University report reflected that the benefits of vaccination outweighed its costs and suggested that vaccination should be considered an indicator of economic stability as opposed to a mere health intervention.
"The cumulative cost of lives saved by vaccines (in the working age group) reached US$21.5 billion," it said.
The report states, "The development of vaccines (COVAXIN and Covishield) helped the country fight the virulent onslaught of the virus and not only immunized a large number of people but also reduced the burden on the health care system." "
Mandaviya said that the government's support package for the people would meet the welfare needs of vulnerable groups, elderly population, farmers, micro, small and medium enterprises (MSMEs), women entrepreneurs and others. and also ensures support for their livelihood.
He added that "with the help of schemes launched to support the MSME sector, 10.28 million MSMEs were provided assistance resulting in an economic impact of USD 100.26 billion which is about 4.90% of the GDP. ", he added.


timesofindia.indiatimes.com