Actors portraying the characters of Arjuna, Drona and Eklavya in the Sudanam Akademi play A monolith. | Photo credit: Satish Nair
Ambiguity largely explains Eklavya's whereabouts when the mythical tribesman readily obeys the drone's demand and offers a thumbs-up to his virtual master. A new Kathakali drama takes the forest dweller's tragedy beyond his end as a brilliant archer. The three-hour production, besides being enriched with novel choreographies and performances, gives fullness to the subplots of the Mahabharata through thematic additions to Vyasa's text.
The epic refers to Eklavya in the midst of the 18-day Kurukshetra war. In Drona Parva, Prince Arjuna learns that Eklavya ruled the forest by overcoming his disability with his missing finger. "So I put an end to it," says Krishna as Pandava's charioteer. Eventually, Guru Dakshina essentially tried to eliminate Eklavya's ability to potentially threaten Arjuna's career.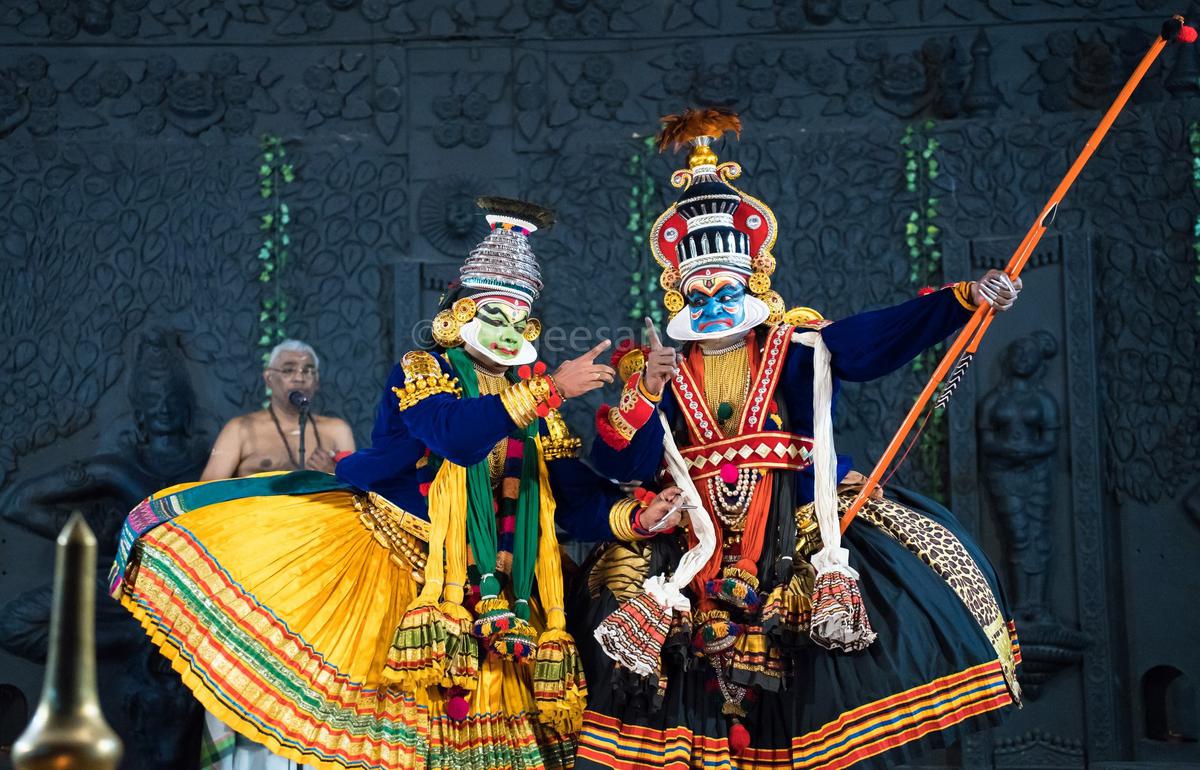 Actors portraying the roles of Krishna and Eklavya in Sadhanam Akademi's new play A monolith. | Photo credit: Satish Nair
Eklavain, the Kathakali show premiered by Sadhanam Akademi, culminates with Krishna killing the youth. Its decorations are fresh figments of the imagination of drama director K. Harikumar, head of the Kerala institute at Pathiripala near Plakkad. One, instead of trying to become one with us all, Eklavya wanted to be number one, Krishna told the young man. Still, premature death is a harsh punishment. So he predicted that Eklavya in his next birth would shoot an arrow that would kill the Vishnu avatar.
In fact in the middle of their fight, Krishna authorizes Eklavya to leave. They say that fights without enmity are ridiculous, there is no excuse for adding to the joy by taking weapons on people. Krishna even points out that both the 'rivals' here are black. On stage, though, Lorde retains her classic green look, while Eklavya's face is innovatively blue. The protagonist (by Kalamandalam Manoj) alludes to his adolescence, borrowing elements from the woodsman's costume in Kathakali. The rose petal-like markings below each eye appear to be inspired by the villain Shankhachoda in the temple art of Krishnanatam.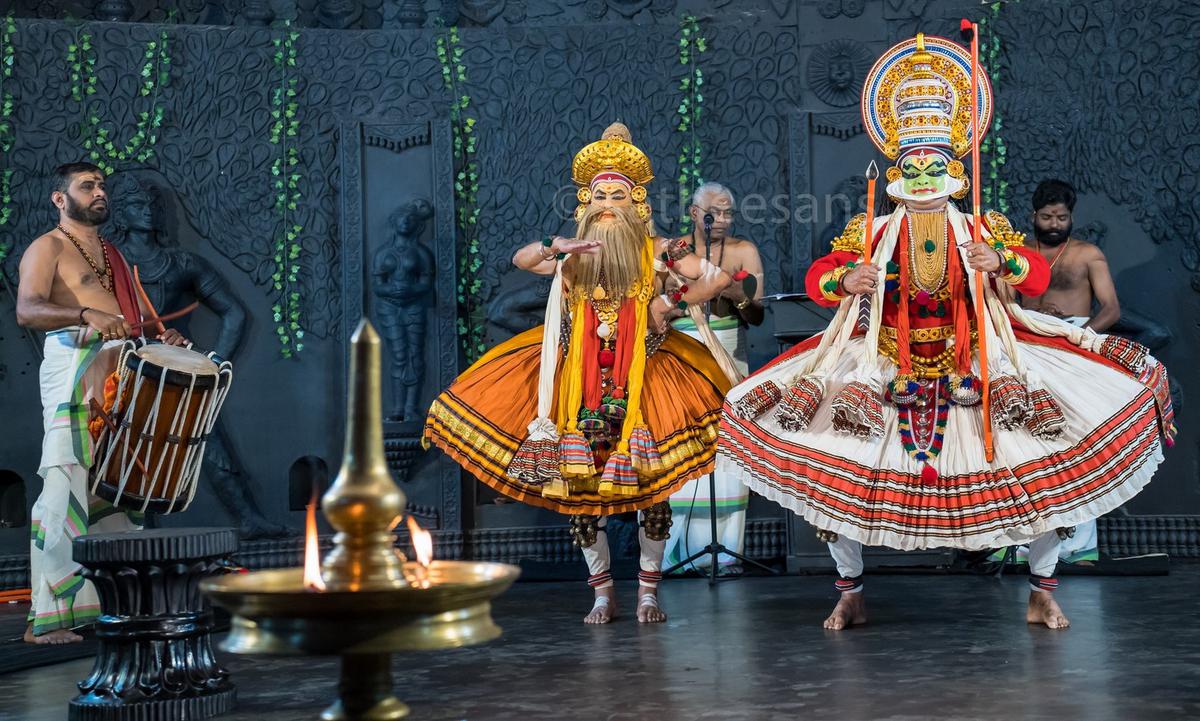 A series of plays by Sadanam Akademi A monolith. | Photo credit: Satish Nair
Harikumar's collegiality even brings out Kodiyattam's sensibilities. The way Drona (Kotkalnanda Kumaran) stands behind Arjuna (Sadanam Mohanan) and oversees his weapons practice in the beginning bears an uncanny resemblance to the way the jester Vidushaka guides his friendly character in ancient Sanskrit theatre. It is true that humor is absent in Ekaluyan, so is Shringara – there is no room for romance. They are all men; Even the captive Krishna (Kalamandalam Parveen) is just brave. One-upmanship is the leitmotif. The plot heats up right from the opening scene with Eklavya's entry a few minutes after the curtain cuts. His request to become Dron's disciple similarly invites a direct answer: no. Worse, Arjuna rebuffs the newcomer with caste comments. Injured, Eklavya scoops up a handful of clay from the spot and, in another scene, is seen worshiping a drone idol made of it. A hunting dog (in a semi-realistic outfit) distracts him, only to be subdued by a unique bowing technique that Drona believed he had taught Arjuna alone. The ensuing panic brings Drona and Arjuna to Eklavya, who loses his thumb. Still brave, she proposes a couple with Arjuna, prompting Drona to direct Eklavya to Krishna for the 'semi-final'.
Often, pure dance cues in songs incorporate footwork from other lyrics. Harikumar, in his 21st story play, is not short on ideas or execution. Supporting Jyotesh Babu on vocals, the other co-stars were Sadhanam Ramakrishnan, Jathan (Chanda), Devdas and Jayaraj (Madullam). Kalamandalam Balan led the five-member team in the green room.
www.thehindu.com