TOP SHOT – A woman daubed with 'Galal' or colored powder during the Hindu spring festival 'Holi' celebrations in Hyderabad on March 7, 2023. (Photo by Noah Salem/AFP) | Photo credit: Noah Salem
Holi may be a festival of colors but like every other festival, the hero of the occasion is the festive food. When you take a break from soaking, dancing and celebrating, try these fabulous Holi staples.
Katachi Amti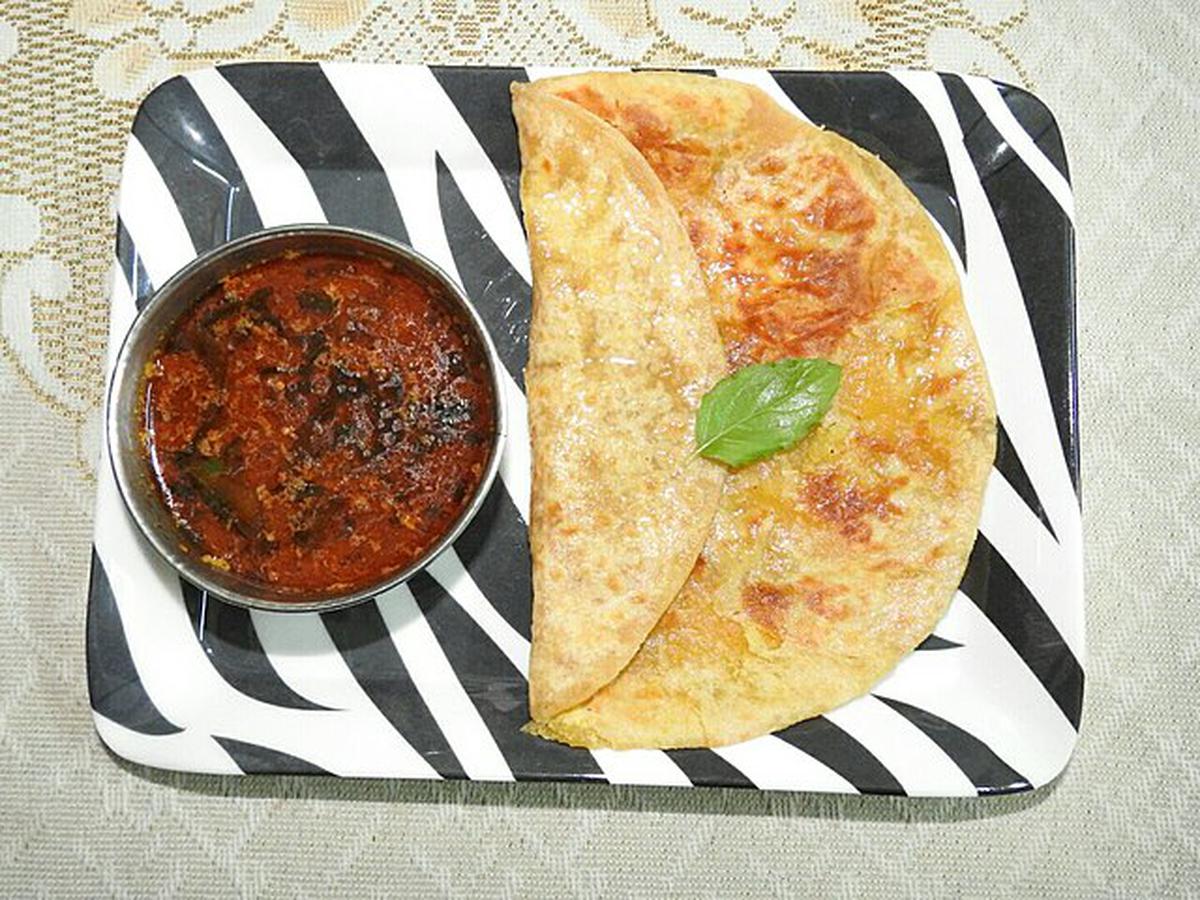 Katachi Amti and Pooran Poly.
Ingredients
Gram dal 100 g Boiling water – 3 cups
Soft gram dal – 2 tbsp
Tomato – 1 small
Mustard seeds – half teaspoon
Cumin 1- ½ tsp
Curry leaves – 1 sprig or 5-8 leaves
Chilli powder – ½ teaspoon
Gouda masala or garam masala – ½ tsp
Hang – a pinch
Chopped Coriander – 2-3 sprigs
Oil – 2 tbsp
Salt – as per taste
preparation
Wash gram dal and soak it in water for two hours.
Cook gram dal in pressure cooker for three to five whistles. Allow it to cool and strain the lentils. Keep aside the water soaked with only two spoons of dal to use for the amtel.
Heat oil in a pan, add mustard seeds and let it crackle, then add cumin and fry.
Add curry leaves, turmeric powder, chili powder and a pinch of asafoetida.
Stir and add the chopped tomatoes and cook until the tomatoes are soft.
Add chickpeas and stock.
Season with salt, chopped coriander leaves and add gouda masala (a traditional Maharashtrian spice mix) or garam masala.
Stir well and let it boil. Simmer for five minutes, taste for seasoning and serve. Katachi Amti with steamed rice.
Recipe by Chef Ashutosh Niralkar, Executive Chef, The Park, Chennai
Sukha black gram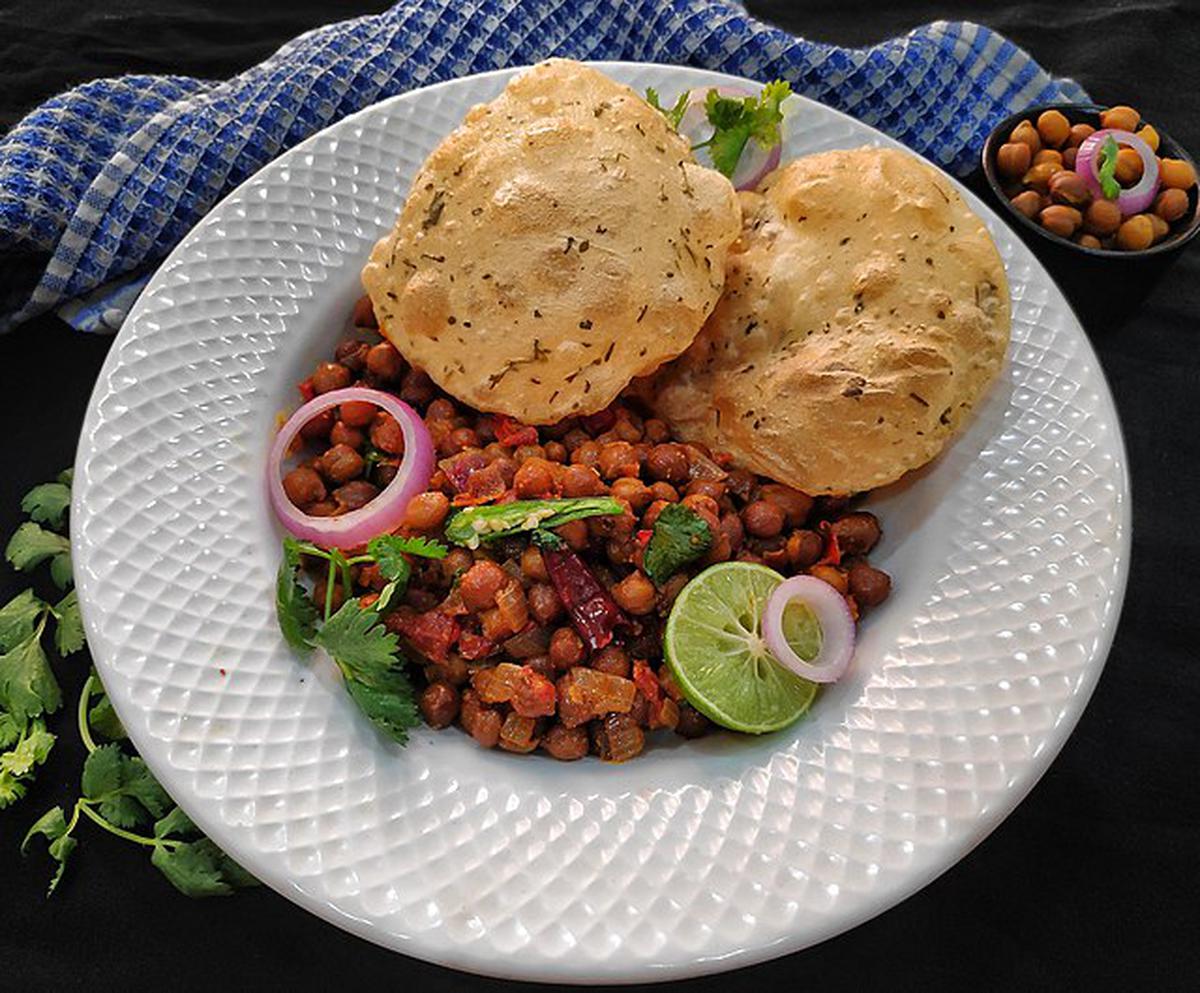 Dry black gram and puri
Ingredients
Black gram – 250 grams
Hung – 15 grams
Leafless – 3
Ghee – 50 grams
Ginger paste – 20 grams
Chopped green chillies – 20 gms
Coriander powder – 40 grams
Red chilli powder – 25 gms
Cumin powder – 30 grams
Turmeric powder – 20 grams
Black pepper powder – 30 grams
Black salt – 10 grams
Dry Mango Powder – 30 gms
Kasuri fenugreek – 30 grams
Salt to taste
Garam Masala – 25 gms
Coriander finely chopped – 10 gms
preparation
Soak black gram in water overnight.
Boil the soaked gram until soft and reserve the water.
Lightly heat a pan, add ghee.
After the ghee melts, add cumin, asafoetida, ginger paste and all other powders except garam masala.
Add two tablespoons of water and cook on low heat.
Add three to four tablespoons of reserved boiled black gram water.
After leaving masala ghee, add boiled black gram, salt to taste and mix well.
Add garam masala, mostly chopped coriander and mix well.
Switch off the flame and garnish with the remaining chopped coriander.
The poor
Ingredients
Wheat flour – 2 cups
Sugar – ½ teaspoon
Salt – half teaspoon
Semolina (fine) – 1 tbsp
Water for kneading
Oil – 3-4 cups (depending on the size of the pan and the number of pooris fried at once)
preparation
Take the flour in a large bowl.
Add one tablespoon of semolina, sugar, salt and two teaspoons of oil.
Making sure the dough is moist.
Add water as required to the flour mixture and knead a stiff dough.
Divide the dough into pieces and roll into small balls.
Roll each ball into a thin circle.
Heat oil in a pan.
Put the puri in the hot oil.
Press gently until puffed up and sprinkle with oil to puff up completely.
Flip it and fry till golden brown all over.
Serve hot with dry black gram.
Gujia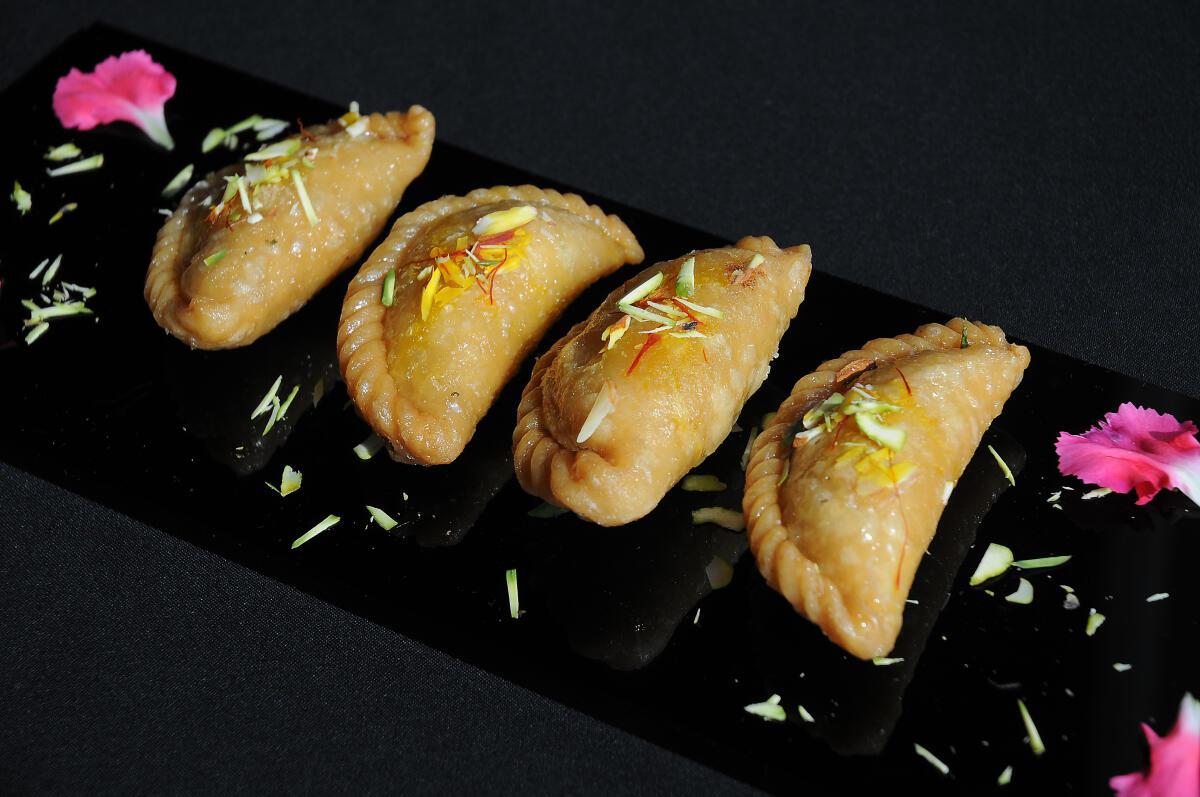 Soak the gujis in the syrup Photo credit: S Subramaniam
Ingredients
Semolina – 1/2 cup
Refined flour – 2 cups
Coconut – 4 tbsp
Raisins, chopped – 2 tbsp
Ghee – half a cup
Sugar – 1 cup
Cashews, chopped – 2 tbsp
Pistachios, chopped – 2 tbsp
Cardamom, ground – 6 pods
Gujia template
preparation
Add ghee to the flour and add water at intervals and knead it into a smooth dough.
Cover the dough and let it set for 20 minutes.
Take half a cup of semolina and add one tablespoon of ghee to it.
Heat a pan and fry the semolina on low-medium heat until it turns golden brown.
Prepare sugar syrup by adding half a cup of sugar to half a cup of water in another vessel and stir until the sugar dissolves completely.
Once the sugar is completely dissolved, add the roasted semolina to the syrup and cook the mixture on medium heat till it becomes dry.
Add grated coconut, chopped cashews, pistachios, raisins and ground cardamom to the mixture and mix well to form a gojiya filling.
Keep this filling aside and let it cool.
Knead the dough and divide it into small portions.
Take a piece of dough and roll it into a sheet with a diameter of two to two and a half inches.
Place the rolled sheet on the gojia mold and press it gently.
Spoon in the filling, close the mold and press the edges to seal the gojiya. Open the gujia carefully to avoid breakage.
Heat oil in a wok, add the gajis and deep fry them on a low flame, flipping them until they turn golden brown on both sides.
Transfer the fried gujiyas directly to the sugar syrup and let them soak for 5-6 minutes.
Recipes by Chef Mayank Kalshrishtha, Area Executive Chef ITC Hotel South, Executive Chef ITC Grand Chola
Rainbow Salad with Mango Dressing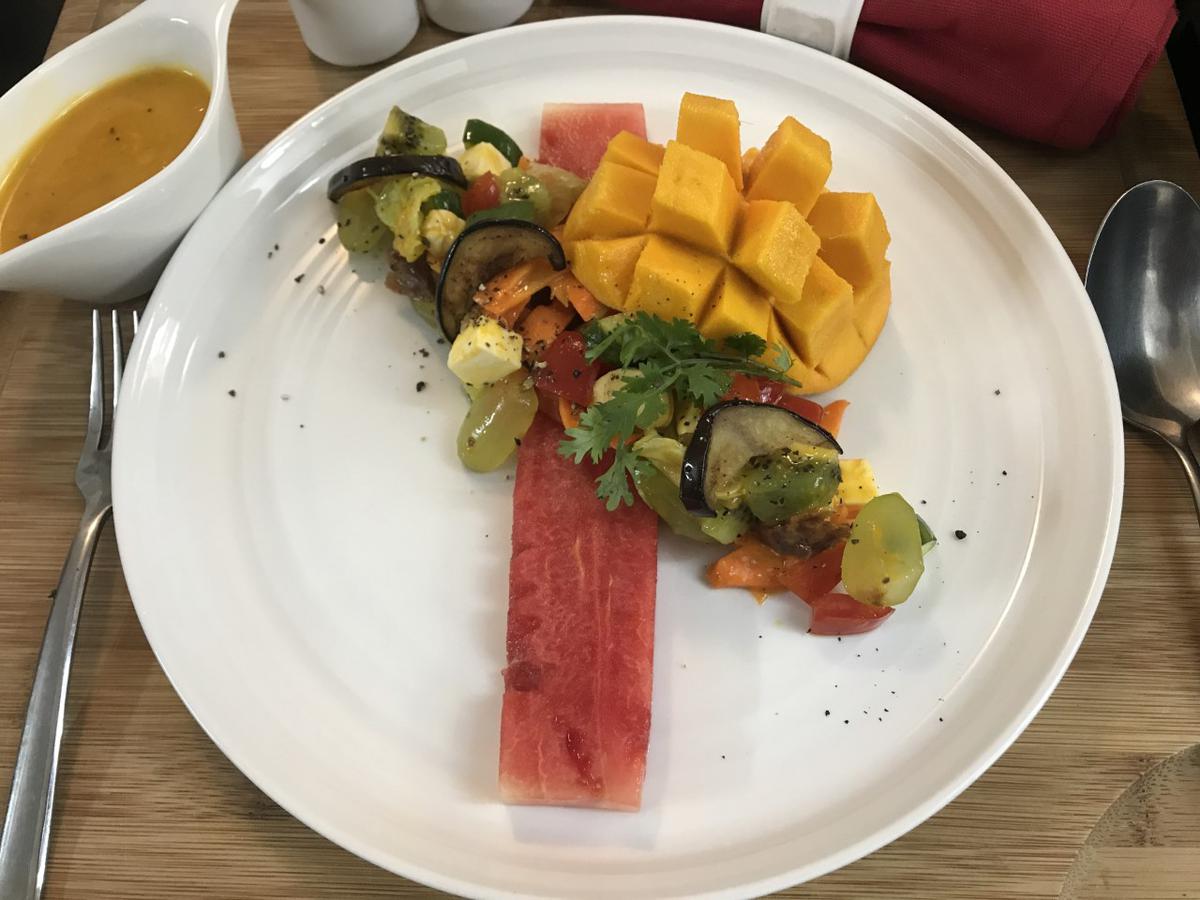 Rainbow Salad with Mango Dressing
Ingredients
Various vegetables – 150 grams
Iceberg lettuce
cucumber
tomato
The carrot
chili pepper
Green chilli
Yellow pepper
Aubergine
Various fruits – 150 gms
watermelon
strawberry
Green grapes
Black grapes
Kiwi
Cashews – 2-3
Walnuts – 2-3
Raisins – 4-5
Dates – 2-3
Cottage cheese – 20 grams
Salt to taste
For the dressing
Mango – 1/2 fruit
Honey – 30 ml
Lemon juice – 10 ml
Olive oil – 30 ml
Salt – as per taste
Ground black pepper – 3-4
preparation
Make the mango puree in the mixture.
In a bowl, add salt, ground black pepper and honey, add olive oil and lemon juice drop by drop until all the ingredients are combined. Sit on one side.
Wash vegetables and fruits under running water.
Soak the lettuce in ice water for 10 minutes, rinse well and tear off the leaves.
Cut vegetables, cheese and fruits into small pieces except watermelon.
Cut the watermelon into rectangular slices and place on a plate.
Add all ingredients to a mixing bowl. Add the mango dressing and toss well.
Chill in the fridge and serve over a slice of watermelon with a slice of mango.
Directed by Chef Deepa Arora, Chef's Table Studio, The Kitchen by Chef Deepa