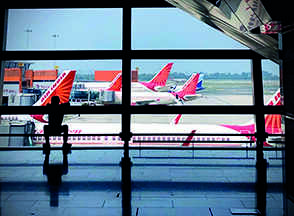 Mumbai: Air India, Air India Express And Air Asia India At least 90 all-women flights have been operated to mark International Women's Day (March 8) and the 90th anniversary of Bharat Ratna JRD Tata's historic first commercial flight on October 15, 1932, an official said here.
The flights were launched from March 1, covering both national and international routes, paying tribute to the spirit of women empowerment with the theme 'Digital: Innovation and Technology for Gender Equality'.
The flights are all-female as cockpit crew and cabin crew on 12 global destinations and most domestic routes, as 40 percent of AI's workforce is female, with 275 women (15 percent) out of 1,825 pilots.
AI CEO and Managing Director Campbell Wilson said, "India has the largest number of female commercial pilots in the world who are pursuing more careers in aviation and we need to achieve gender parity in the workforce. Enables."
Similarly, Air India Express CEO and AirAsia India President Alok Singh said the low-cost AI subsidiary has a total of 97 women pilots and more than a third of its workforce is women.
All-female flights are also staffed by female dispatchers, safety and quality auditors, loaders, engineers and security personnel.
These more than 90 flights are on international routes such as the Gulf region, UK, in addition to domestic sectors. MenMelbourne, Toronto, Paris, New York, etc.
AI operated the world's first all-female flight on Delhi-San Francisco and another Bengaluru-San Francisco flight charting the polar route.
On IWDAI has organized connected programs like 'Ally at Work', medical check-ups for breast cancer using AI-led technology, felicitations of artist GS Smitha whose work is featured on the airline's tail art. , an all-women bike rally, and red priority carpet services for women passengers booking AirAsia India flights between March 8-15.


timesofindia.indiatimes.com