Moslikanti's School of Kochipudi. A performance at the Music Academy during the Marghazi Dance Festival held in January 2023. i| Photo Credit: RAVINDRAN R
The well-rehearsed and choreographed, Tyagaraj panchartana kriti, with dancers from Jakeshwar Moslikanti, Padmavani and Shiv Mohanam, set the stage ablaze at The Music Academy with 'Jagadananda Karaka' (Nittai). The concept of Guru Vempati Chenna Satyam was adapted by Jakeshwar for a group — one has to appreciate the perfect timing of frequent comings and goings, but the process becomes tiresome after a while, the beauty of this piece. Attention was diverted from , whose order of charanams was required. Correction too.
Of course, the performing arts must be dynamic for the sake of continuity.
According to the late scholar Sunil Kothari, there is historical evidence of the Kuchipodi dance-drama tradition in Telugu-speaking regions in the 15th century.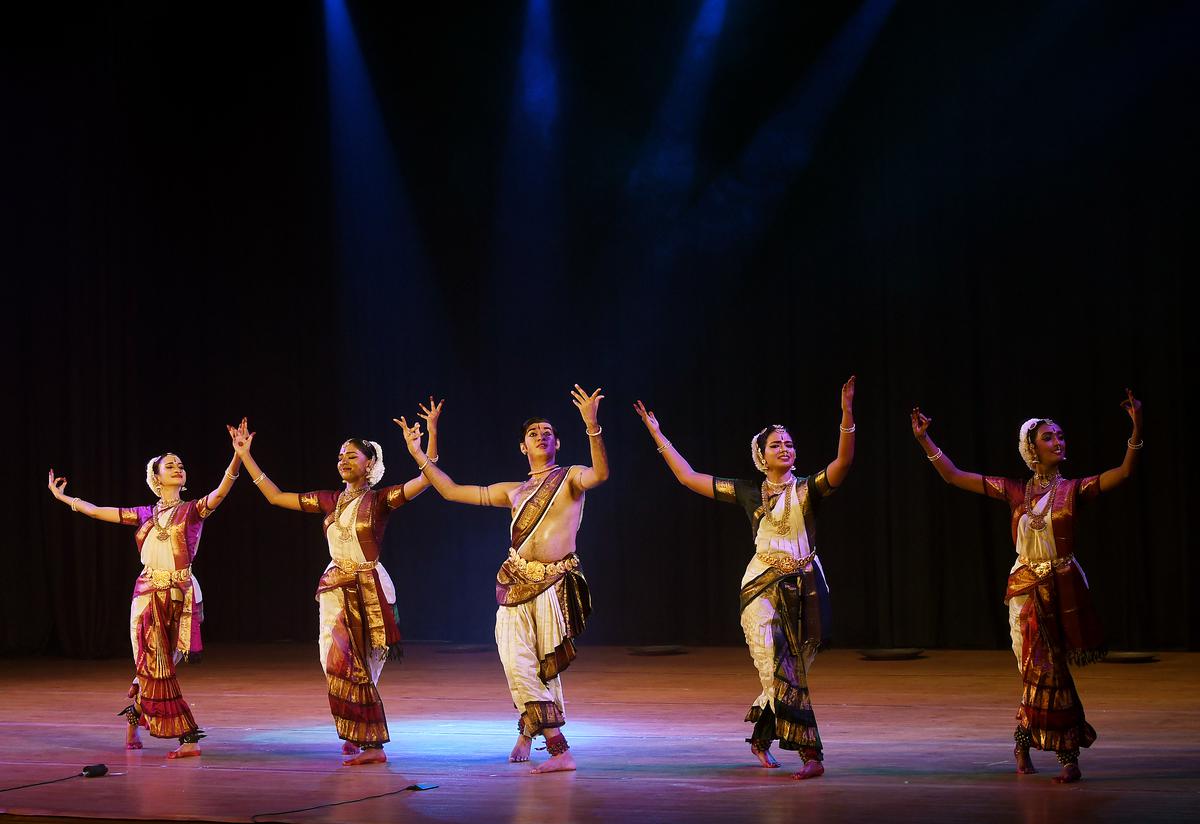 Students of School of Kuchipudi, Shiv Mohanam, Moslikanti, perform during the Margazi Dance Festival organized by The Music Academy in Chennai in January 2023. Photo Credit: RAVINDRAN R
From the 1930s to the independence movement, when indigenous art forms were being revived, Vedantatam Lakshmi Narayan Sastri and his son Jagannath Sarma traveled to erstwhile Andhra performing solos for the first time. He taught women, added tarangam (brass plate dancing) and more to popularize Kochipodi.
The solo genre remained and women became stars. But, now kachipodi group presentations are making a comeback not as dance dramas but by adapting or creating new solo choreographies. Although it is more comprehensive, it requires standardization, sacrificing the beautiful lit and local flavor of kochi podi.
There is no mistaking Jakeshwar's choice of songs and musicians — Swetha Prasad as the vocalist, Ishwar Ramakrishnan (violin), Mithukumar Balakrishnan (flute) with S Adit Narayan (Ntungam) and BP Hari Babu (Mridingam).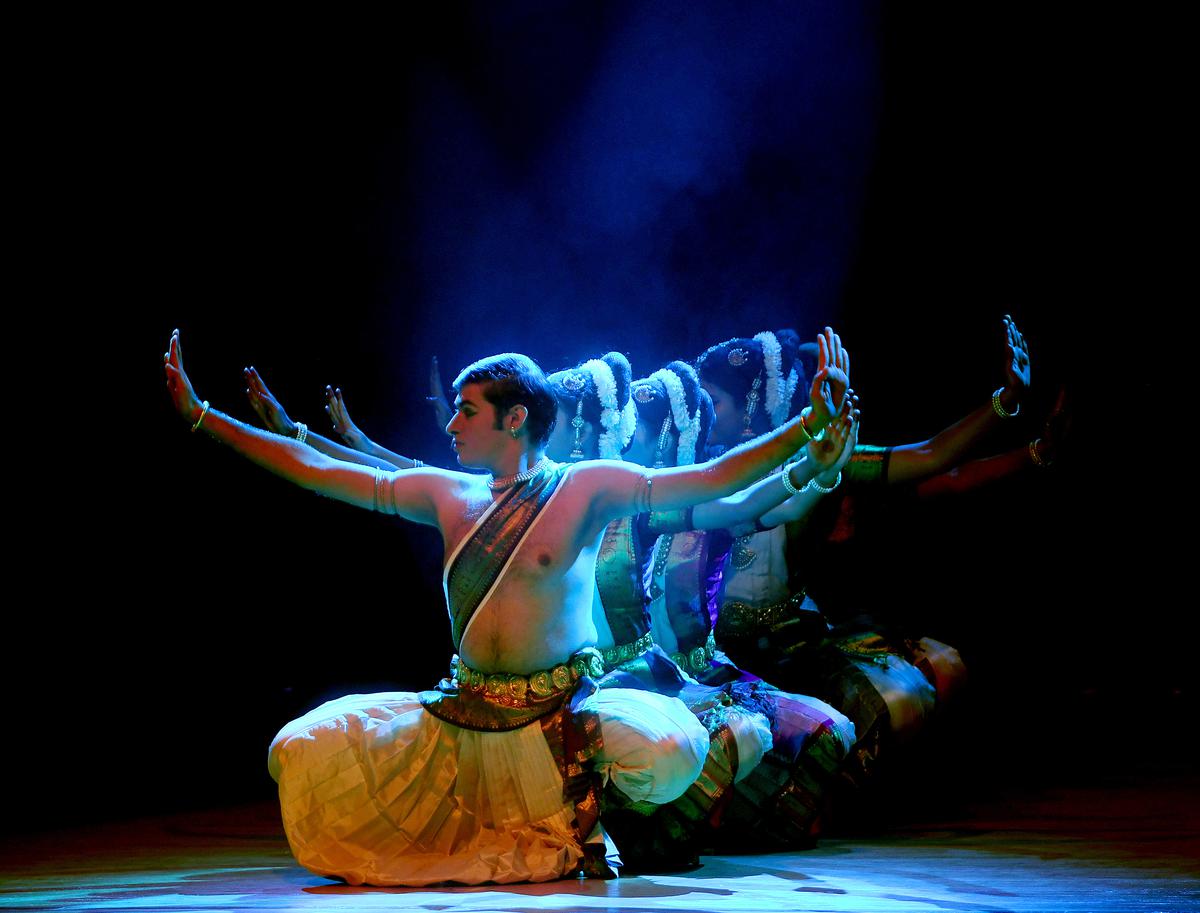 Students of Shivamohanam, Musalikanti's School of Kuchipodi, during a performance at The Music Academy's Margazi Dance Festival in January 2023. Photo Credit: RAVINDRAN R
'Omkarkarini' (Lavangi, Adi, M Balmarli Krishna), a duet between Jai Keswar and Padmavani, detailed the goddess as Durga as a fierce warrior and as a compassionate one, with a slow jathi in between. has been done This was followed by the piece de resistance of the evening, 'Vidalara Viyarulu' – an excerpt from the dance drama 'Vipranarayan Charitam' by a dhru, Guru Vempati. Set to Raga Kedara Gaula and Adi Tala, composed by Deolapalli Krishna Sastri, music by Balantrappu Rajinikantha Rao, it concerns a woman, Devi Devi, who adorns herself to woo Saint Viparnarayana. Her walk and smile were a joy to behold. It brought out the best in Kachipodi. It was presented by Vaidya Sforthi Konda, Ala Gopal and Lakshmi Reghunath.
Again the Siva Tarangam (set to Narayan Teerth, Ragmalika and Adi Tala, Music by Ramesh Jetty, Choreography by Jakeshwar Musalikanti) was a costumed event, highlighted by a Nadai Bedam brass plate arrangement. Kudos to the dancers and musicians for a great time. Other dancers in the group were Abhinav Ashok, Samohana Musalikanti, and Sathwaika Reddy. Jakeshwar Musalikanti's 'Kachipodi Nartamalika' was high on energy but not on bhava.
www.thehindu.com