Actresses Courteney Cox, Jennifer Aniston, and Lisa Kudrow pose during the unveiling of Courteney Cox's star on the Hollywood Walk of Fame on February 27, 2023 in Los Angeles, California, US. Photo credit: MARIO ANZUONI
Actress Courteney Cox was honored with a star on the Hollywood Walk of Fame on Monday and at her gala ceremony Friends As a reunion she was with her friends and Friends Co-stars Jennifer Aniston and Lisa Kudrow.
Speaking at the event, Jennifer said she was honored for Kourtney to be there and speak on behalf of "your co-workers, your friends, and your family, your sisters. And so It happened because we have known you for a long time.
"It's been like this since we met almost 30 years ago," Lisa said before Jennifer interjected, "No, not 30 years ago." That's a typo." There was a lot of laughter from the crowd at that moment, and Jennifer continued. "Being friends with Courtney is being family with Courtney, and she's responsible for all of that. From the moment we met her, she was immediately engaging, warm, loving, and interested in everything about you. I was nervous when I met him because I was a huge fan," he said.
"Courtney instilled in all of us, in our DNA, to support and love each other; that actors need to support and love each other, not compete with each other. "Those words of wisdom have stayed with me," Jennifer added. I still love it.
Lisa then said, "I really believe that it was him, and Courtney did that, that really set us up to be the closest, most loving and supportive cast in television history."
"Courtney, we just want to say that we are deeply honored to know you. You are truly beautiful, talented, and most importantly, a truly good and decent human being. Our personal compliments. Thank you for making lives better," Lisa added.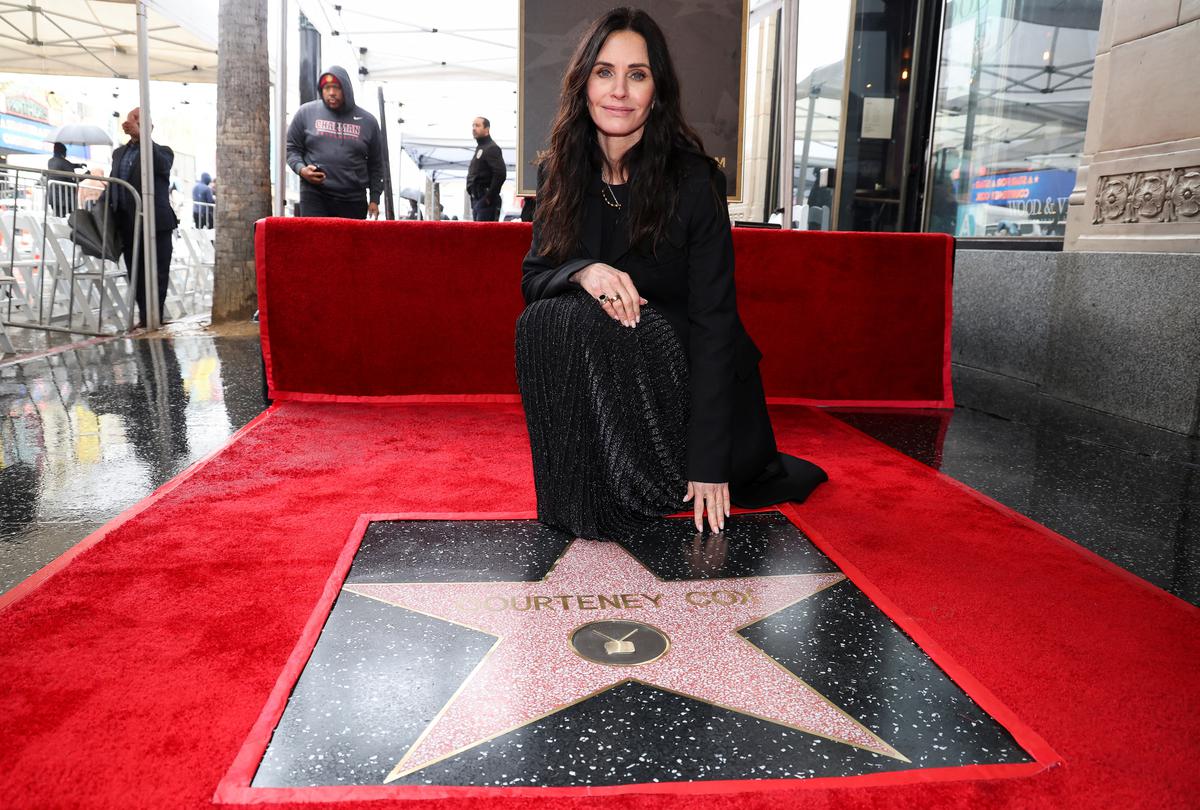 Actress Courteney Cox poses during the unveiling of her star on the Hollywood Walk of Fame in Los Angeles, California, US, on February 27, 2023. REUTERS/Mario Anzuoni | Photo credit: MARIO ANZUONI
The two actors then shared their experiences with Courtney on Friends working through her OCD tendencies (something she shares with Friends character Monical Geller Bing), being a mother, and more.
Kourtney looked a little nervous as she received the Walk of Fame star, Hollywood's 2,750th star. "Public speaking scares me. That's why I don't present things very often and why I'm catching up with Lisa and Jennifer now.
She thanked her friends, family, crew, agents, and everyone behind her for getting the star – from publicist Melissa Cates to her assistant Tracy Reese. She then thanked her boyfriend McDade and daughter Coco, who she said taught her to be a better person. The actor then got teary-eyed as he recalled a phone call he had with his father when she was a struggling actor. "He asked me to come home. He said 'You have to do what you do best: sell swimming pools.'
"The next day I got it. Family relationships. "It's going to make me cry because I love my dad, but I just want to say that I know he's really proud of me, and it looks like I'm here to stay," she added. said, pointing to the Walk of Fame star.