Ask any Kodiyattam actor who his favorite character is and the answer will always be Raavan. Put that question to an expert and you might get the same answer. The fact is that the villain of the Ramayana is the central character in Kodiyattam and other traditional theater forms of Kerala. Raavan offers the biggest challenge and the biggest potential for an actor. And the most aesthetic pleasure for the spectator.
So it was particularly fitting that 'Nati Dharmi 22' – the annual five-day festival organized by the Kottayam Center of the Central Sangeet Natak Akademi – was Ravana. The program was styled Natyaravanam, in which around 60 artists participated, and was designed in such a way that it conveyed the essence of what Kodiatam is all about – the primacy of performance over story and the anti-hero cult that is the traditional performing art of Kerala. Farms celebrated up to a thousand. Several years ago.
As Prof. K. G. Poulos, scholar and former Vice-Chancellor of Kerala Kalamandalam, noted in his speech at the inaugural session, Kerala's Nati Shastra tradition was not a replica of those followed in other parts of India. In Kodiatam, the focus is more on presentation than story. "While Nati Shastra aimed to present an idealized hero and build a story towards that ideal, the Kerala tradition went beyond this, maintaining its focus on the mental process, not the story."
This is exactly what the sixth edition of Nati Dharma, the last two of which were held online, has said. A flight of imagination that shows Ravana in all his moods — haughty, haughty, victorious, pious, loving, lovable, mischievous and brave.
It was no coincidence that six of the 15 Ravanas presented belonged to Ravana. Asokavanikankamthe fifth act of Sakti Bhadra Ascharya Chudamani., which offers a larger canvas to bring out the historical impact synonymous with Kodiyattam. Performed in its entirety over 17 days, the act does not advance the story of the Ramayana at all, although in its course Ravana recounts his exploits, his dreams, his victories, and above all, his love and passion. Encompasses all three worlds with stories. The act opens with Ravana describing Sita's beauty and expressing his love for her. At the end of the act, or after 17 days, we see Ravana sitting in the same position, crushed by unrequited love.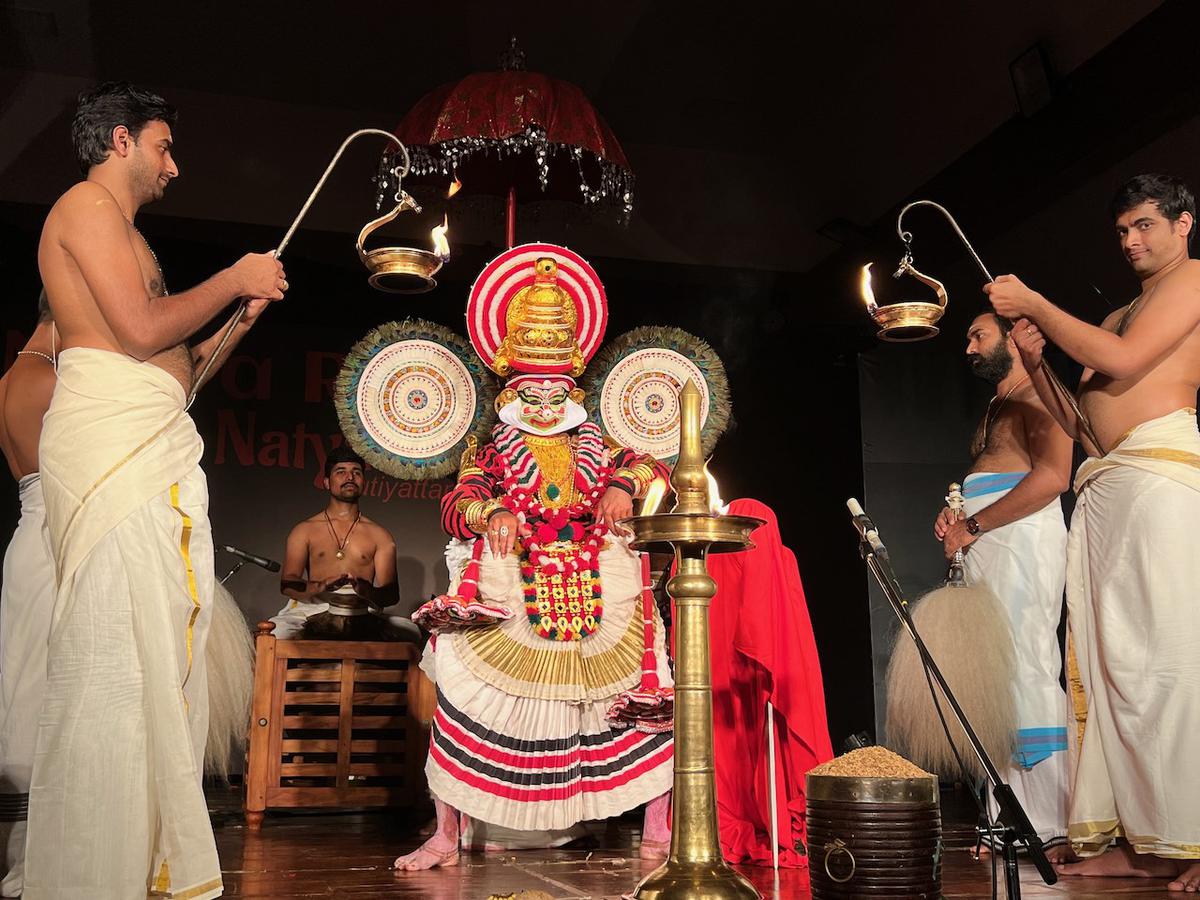 Presented by Margi Madhu Chakyar. Asukavanikankam – Valya Udayanpravisam At Naty Dharmi 22, organized by the Kottayam Center of Central Sangeet Natak Akademi. | Photo credit: Special Arrangements
A mature approach
The finale was the last scene of the festival. Asokavanikankam – Valya Udayanpravisam Or the grand entry into the garden, which is a visual spectacle and in all its hues of charm or sharngara, woos Sita with gifts, cajoles and even threats. It was here that Margi Madhu Chakyar showed his expertise on the farm. In this solo act which Madhu edited in just over four hours, he showed his maturity and experience in delivering this difficult and restrictive act where the actor moves only three or four feet in those four hours. The first part, describing Sita's beauty called 'Kesadi pada', took over an hour with a very slow description of the mudras set to the 14-beat Dhruva Tala.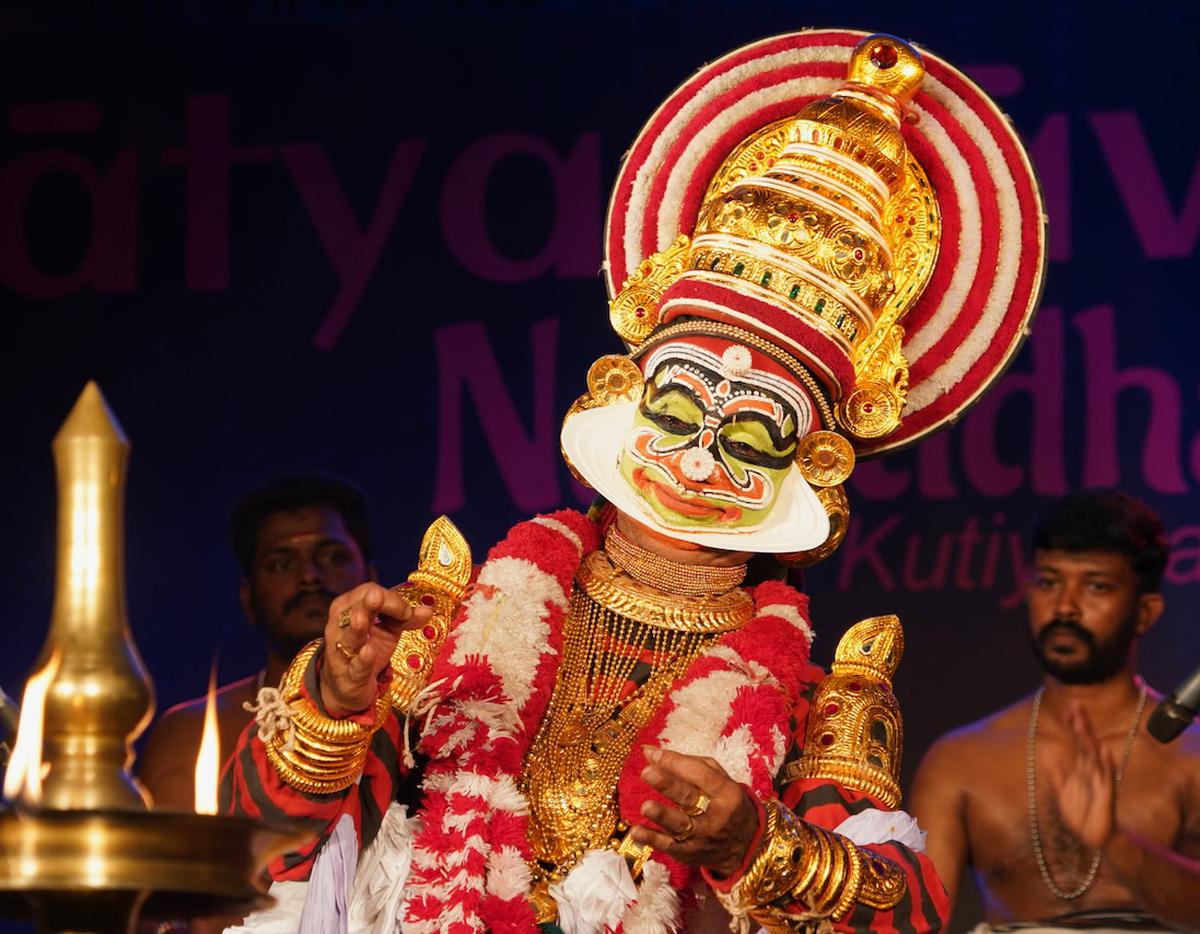 Presented by Margi Sajiv Narayan Chakyar. PanadropamAt Natyadharmi 22 organized by the Kottayam center of Central Sangeet Natak Academy. | Photo credit: Special Arrangements
Love was again the theme when Margi Sajiv Narayan Chakiar performed. panadroopam Where Ravana's ten pairs of eyes celebrate Sita's beauty. Sitting on a stool and playing with his eyes and face, Sajiv looked at the ten faces competing and fighting for Sita, comforting and admonishing them. In the last section only the eyes function as the ten heads add to Sita's beauty.
Sajiv delivered a master class in concentration with his hands folded on his chest and NeterbinaMoving your eyes in ten different ways.
A well-balanced process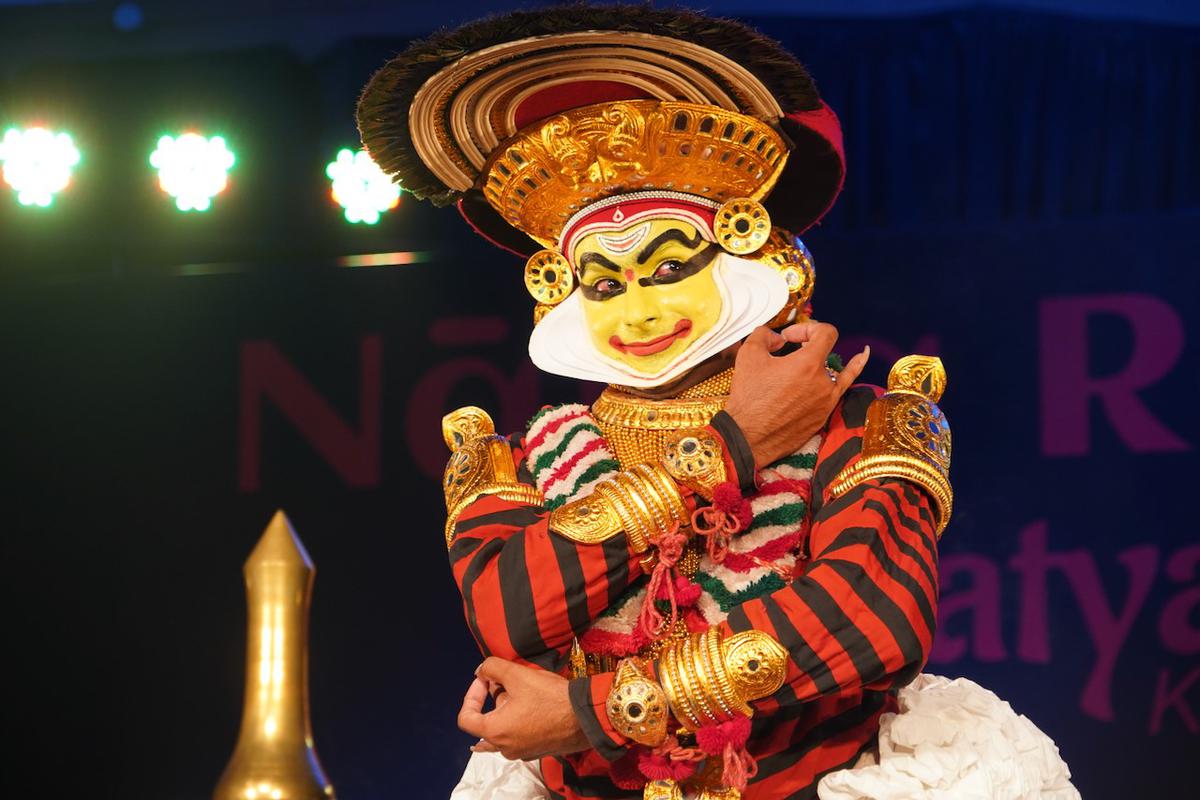 Rahul Chakyar performed Sankukarna in Toranayudham, at Natyadharmi 22, organized by the Kottayam center of Central Sangeet Natak Akademi. | Photo credit: Special Arrangements
Asokavanika Bagh again features Rahul Chakkiar's portrayal. SankokarnaI ToranayudhamWhere the gardener informs Ravana that his garden has been destroyed by a monkey. He goes on to describe Ravana's love for his garden, how he brought plants and trees and creepers from the sky and planted them himself. And how Ravana stopped the wind and banished the sun from Lanka to save his plants from where even his wife Mandudri dare not lift a leaf. The highlight of Rahul's performance was a segment called Koppaniyikkal Or the maids who help Mandudri do make-up and get dressed. Rahul's transformation into femininity was beautiful to watch.
Interestingly, while Ravana's soft side, as an aesthete, admirer of beauty and a passionate lover, is portrayed by three men, Ravana's brave and proud face is portrayed by three women – Usha Nangyar, Aparna Nangyar and Kalamandalam Sangeetha. What did They showed how a codiatom is known as an acting device. Pakranantamor transformational acting, allows a female artist to portray on stage even the most villainous male characters.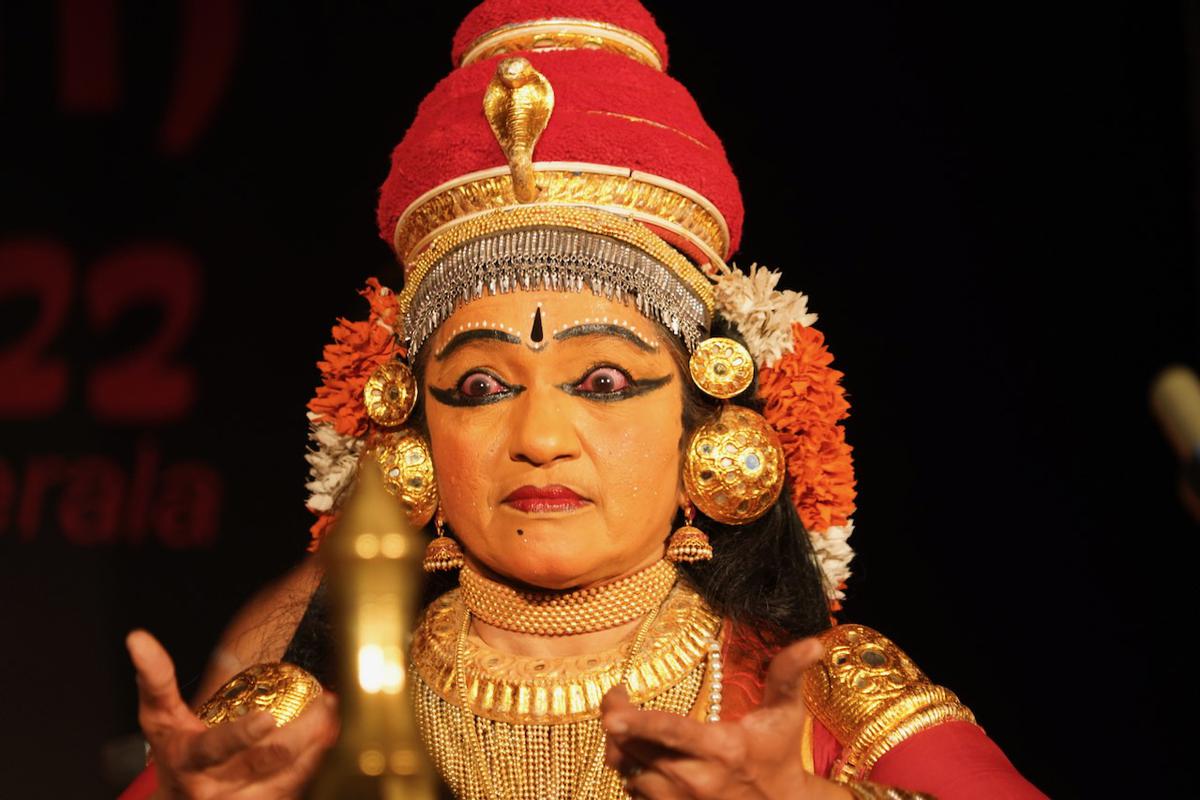 Usha Nangyar at Natyadharmi 22, organized by the Kottayam Center of Central Sangeet Natak Akademi. | Photo credit: Special Arrangements
Usha presents Mandudri. Nirohanam Prefixed by or Asokavanikankam, the three-day section he reintroduced into the Codiatum repertoire after it had been lost over the years. As Mandudri awakens from a nightmare of Lanka's destruction, her thoughts flash back to her own life and Ravana's. Usha presented full of action. Tapasatam Where Ravana, performing severe penance, cuts off his heads one by one until Lord Shiva appears and grants him near immortality. Usha's portrayal of Ravana—with fire in his eyes, waiting impatiently for Shiva, and a twinkle in his eye when he sees his bride Mandudri—was captivating.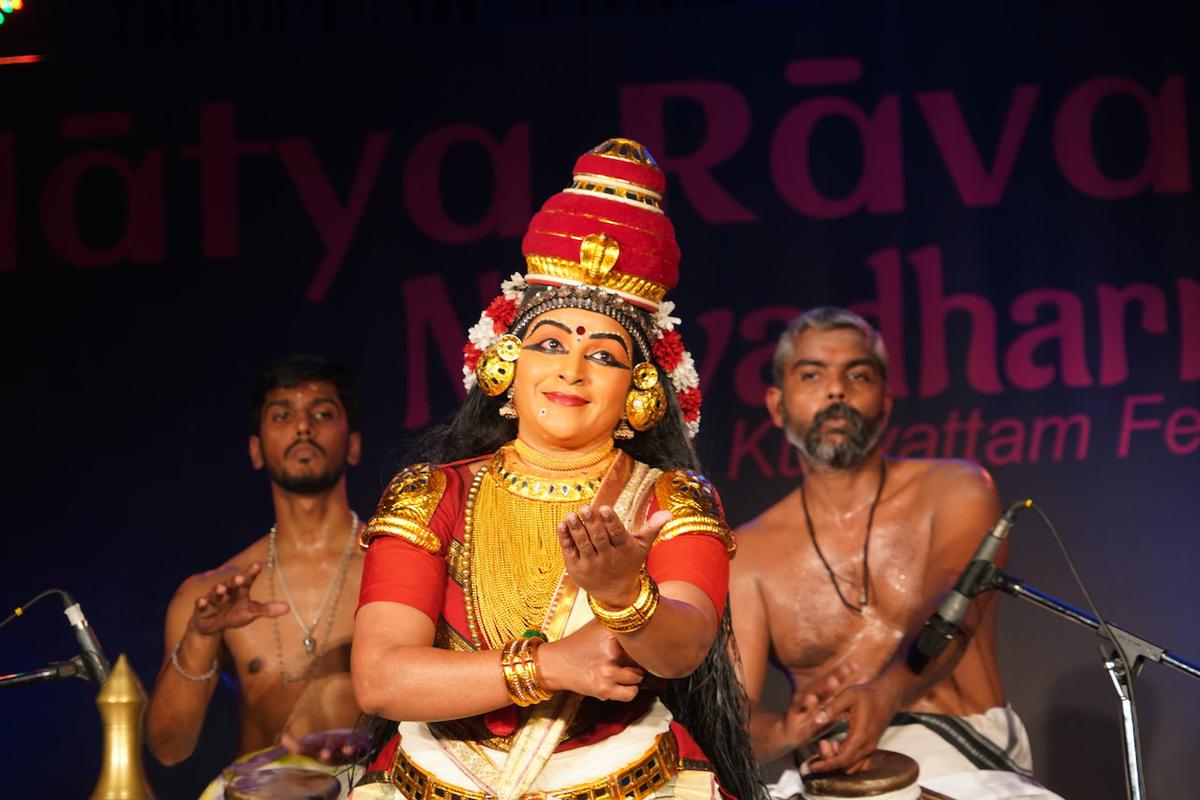 of Kalamandalam Sangeeta Mandodri Nirohanam At Naty Dharmi 22, organized by the Kuriyatam Center of Central Sangeet Natak Akademi. | Photo credit: Special Arrangements
The same episode of Ravana's penance was done by Amanwar Rajneesh Chakyar from a different perspective. Presenting a new choreography. Mahaviracharitam By the 8th century dramatist Bhavabhuti, Rajneesh shows the proud Ravana boasting at Mandodri how brave and powerful he was in accomplishing this impossible task.
Kalamandalam Sangeeta presented another part of Mandodri. Nirohanam To describe how Ravana conquered the three worlds. He impressed with his passion and energy in presenting the famous episode of Ravana's lifting of Mount Kailasa and how he received his famous sword Chandrahas from Shiva.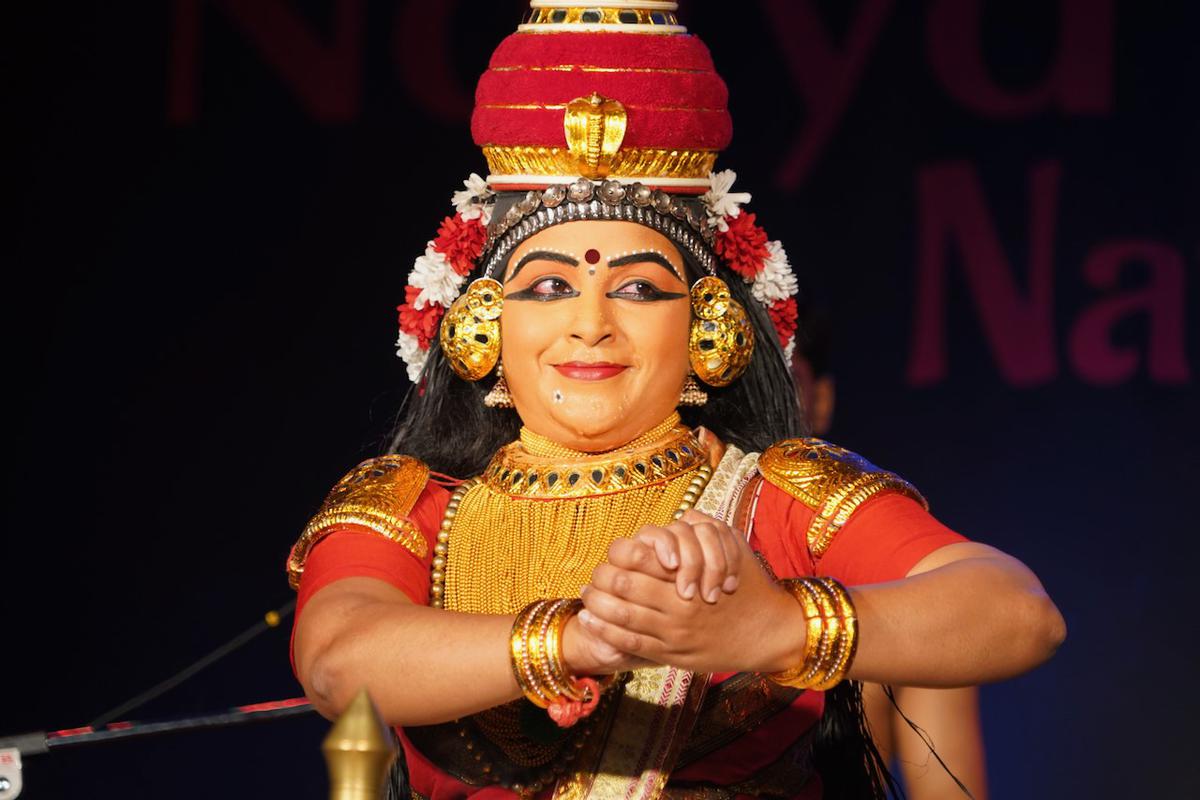 At the Natyadharmi 2022 organized by the Kodiyattam Kendra of the Central Sangeet Natak Academy, Kalamandalam Sangeetha performed another part of Mandodri's Nirohanam. | Photo credit: Special Arrangements
"Presenting the same character in different episodes, and from different perspectives, was a deliberate choice to showcase the aesthetics of this art form," says Kannan Parameswaran, director of the Kottayam Kendra, which organized the festival. . Says Kannan: "Our main concern was trying to edit these episodes into a three-hour or longer arrangement. Kodiatam was inherently minute, detailed, iterative and discursive. What we tried to do at the festival was The key was to present this aesthetic of Kuriyatam, without losing its original details, to a new and younger audience."