Have you ever experienced Chinese fishing nets in all their glory? Seen and felt a 14th century coastal net in operation? A giant contraption possibly brought to the Malabar coast by Chinese explorer Zheng He is now set for a memorable twilight dinner.
Gopinath Pryal, Responsible Tourism Pioneer and Founder, The Blue Yonder, Curated, Nilwala , A unique food experience, as the end of a day tour, Pokkali: The Story of Rice. The experiment focuses on climate change, declining catch and the precarious conditions of a community living by nets.
As travelers become more discerning and aware of the global environment, tourism stakeholders in Kerala have stepped up their act by offering unique dining experiences—breakfast on a hilltop, overnight on a boat. The meal of, in the cave, the dinner of the night of the full moon — which have been combined. Serious with the sublime.
Through Chinese fishing nets
At 5.30pm I am at Land's End in Ezhikkara, a small island village, for a twilight dinner on the nets. Prasad helps me into a native boat tied to the adjacent canal. As he slaps steadily against the warm waters, we are in a breathtaking expanse of Chinese fishing nets.
Bright sun, wind and water create a dramatic setting as the boat sails through the nets and heads in the opposite direction to shore. The mighty Periyar laps the island of Izikara while the deserted Puza (River of Warriors) that carries nets connects the reservoirs. Within an hour of Ponting, the sun turns into a red ball that quickly turns into a sinking twilight. The birds — terns, gulls, cormorants, crows, egrets — begin their journey home as we head for dinner amid the growing darkness and the sound of lapping water.
The first stars appear in the sky above and lights twinkle on distant shores. The distant Chinese nets are visible by the glow of the battery lights attached to them. We slowly approach the deck of our fishing nets, which are lit by the light of a few candles in glass cases on posts.
Vishnu VV, part of the host team, offers cool towels to freshen up and a charming table on the deck welcomes us. "We can seat 12," he said, adding that since its opening in January 2023, it has hosted 30 guests so far. Meals include kappa and prawn curry, followed by mackerel fry, chicken roast and curry, rice, thorn, vegetable curry and papadram, all made by his wife in Prasad's home kitchen. Meals were made while we tested the water and freshly cooked dinners arrived on the canoe.
A little drama emerges as one gets tired. As Prasad pulls the ropes from which the solid stone weight hangs, the 20-meter fishing net rises from the water, like a giant sea beast, holding a clutch of silver fish and shrimp. . The small catch is kept in a cage for sorting in the morning.
Vishnu says, "Nilavala is derived from three Malayalam words representing moonlight, waves and net. We finish with saffron tea, freshly cut fruit and sit back to take in the magical evening and night.
Prasad helps us with life jackets as we leave. Back on earth, Anithia, the woman behind the delicious diner, smiles, delighted to know we loved her cooking. Gopi says, "Izikara is facing the effects of climate crisis including increased number of days of tidal flooding, increased salinity of freshwater sources, loss of marine and freshwater life including fish and reduced employment opportunities. have been," and adds that Neelwala is an initiative. which repairs dilapidated fishing nets and refurbishes them to host such dinners.
( Dinner is worth it. ₹ 3000 per head for booking contact: 8369427434)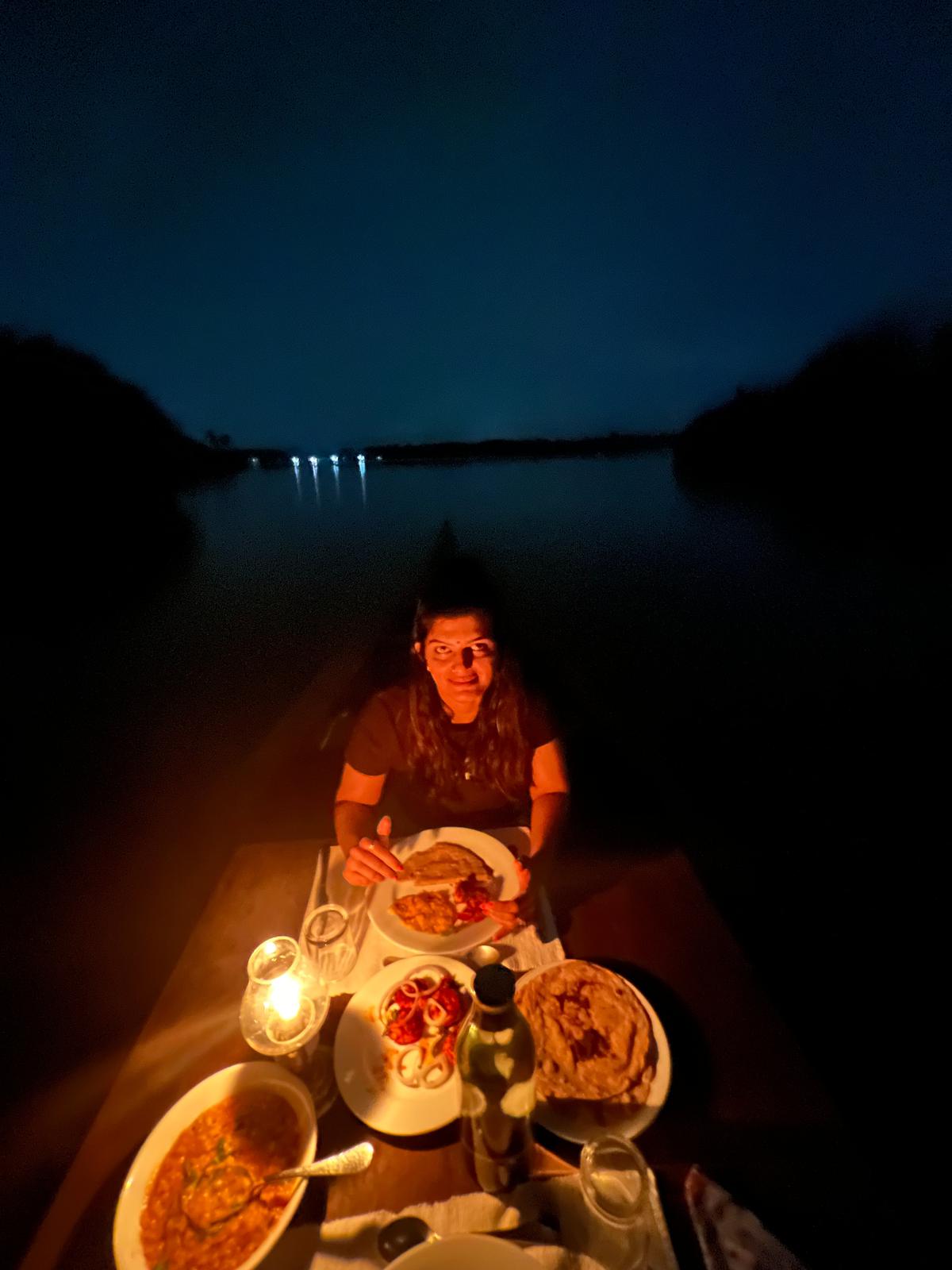 County Boat Dinner at Vembanad | Photo credit: Cayal Island Retreat
Country Boat Table at Kukthoruthu
"You get up close and personal with nature. It's just you and the lake," says Manisha Pannekar of "moonlit dinners under a canopy of stars," at her four-cottage boutique private island resort. Land Retreat, offers on the island of Kukthoruthu, off Kochi. Subject to availability and weather, the vast Vembanad Lake can be experienced with an evening boat ride with a five-course Kerala meal on board.
"The only way to get to the resort is by rowboats and so everyone has to live in the moment," she says as a table is laid on the boat and dinner is prepared for the couple. has gone Islanders who work at the resort. "We can host four couples on our four boats," she says, adding that dinners alone can be done on a day's notice.
(A meal costs ₹2800 plus taxes. For Booking Contact: 7736000989, Mail: stay@kayalislandretreat.com)
Cave Plater at Edkal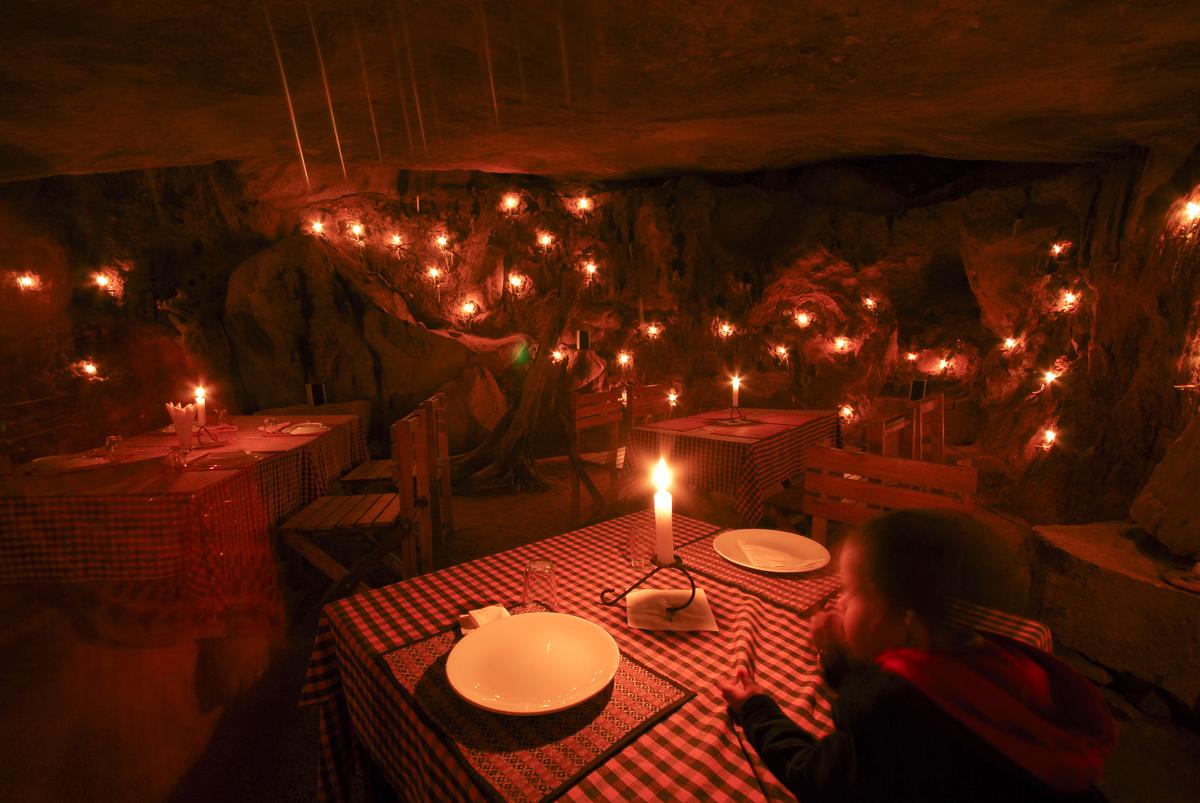 Photography in Wayanad | Photo credit: Manoj Sudhakaran
One of the most popular experiential meals is the cave dinner offered by Edakal Hermitage, a property located very close to the famous prehistoric natural caves near Kalpeta in Wyand. A 300 square foot natural cave, the seating area can accommodate six to eight people comfortably.
"We use around 300 to 400 candles to light up the space. Since the cave has natural acoustic properties we play instrumental music to highlight that aspect," says CP Shailesh, who has another Founded this property along with architect, Sibiraj Ravindran.
Dinner is a set Indian menu — rotis, curries, rice and more — and timings are from 7pm to 10pm – Shailesh says, "We host three dinner groups at the cave. Built in 2002, it has seven cottages and a spectacular view of the natural rock formations.
( A meal costs one. ₹ 2000 plus tax. For booking contact: 9847001491, www.edakkal.com)