Praveen Kumar at Music Academy's Margazi Festival in January 2023 Photo Credit: RAGU R
The pandemic lockdown forced Bharatanatyam dancer Praveen Kumar to revisit old compositions to gain new insights. His recital begins with 'ka va va' (papansam sevan; varali), an invocation to Paznimalai's Skanda. He came up with sharp images that described the characters associated with Muruga – the son of Shiva, seen as a child sitting on Parvati's lap, armed with a spear, married to Vali and Devyani, and is the bestower of sacred mantras. . The final scene was of the devotees traveling to Pazani with the Kavadi.
Varnam, Thorivar Rajagopala Sarma's 'Nan Nami Na No Ra' (Aatana), which was part of Praveen's arrangement, saw Krishna from different angles — friend, lover, parent and protector. The impeccably executed jathis were mostly set in chattusara nadai (as in the old version), while Abhinaya presented Krishna's colors in a refreshing way. 'Channikrishna ra ra', devotees call Krishna the brother of Balarama, who eats clay and opens his mouth to reveal his mother to the universe. Parveen has adopted an integrated approach to Bharatanatyam from his guru Narmada and Professor CV Chandrasekhar – his flawless movement blends well with interpretive dance.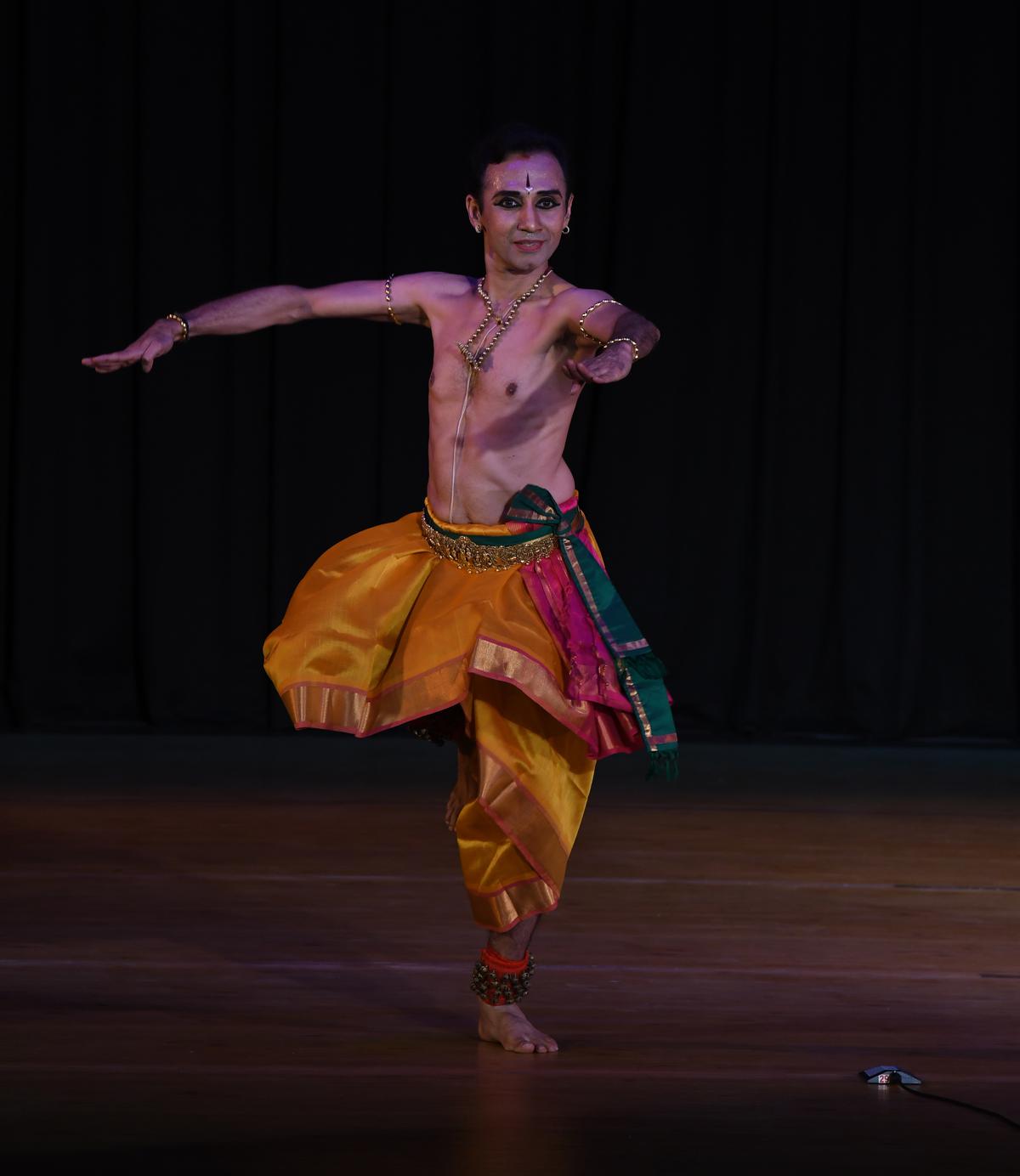 Praveen Kumar performing at The Music Academy's Margazi Festival on 04 January 2023. Photo credit: RAGU R
After the varnam, a purely abhinaya, part of the recital began in Marimutha Pillai's composition 'Ithai Kundu Achai Kondai Magale' Kalyani, a Nanda Satuti, set to the Rupaka Tala. Although the words do not indicate the gender of the speaker, the song is traditionally understood to represent the words of a distraught mother telling her daughter Parvati what she saw in Shiva. Lose your heart to him. Parveen saw these words from a male perspective—a father addressing a daughter. Drawing his attention to Shiva's sayings, he says, "Is he not the one who swallowed the poison and burned Manmatha to ashes with the fire of the third eye? Her grotesque attire includes an ashen body covered in tiger skin, matted locks enshrined in the Ganges, and a snake for a garland. He also tells her how she is used to traveling comfortably in a palanquin, while Shiva's mode of transport is a bullock. The dancer ends with her convincing portrayal of an angry father who, seeing his words have little effect on his daughter, flirts with the "Satha Pethiyakaran" (crazy person).
Javali, 'Oh My Dear Lalana', a Karur Shivaramiya composition (Karaharapriya) with a mixture of English and Tamil Sahitya, was an unexpected choice by the conservative Parveen, who tried to woo an indifferent Naik. While doing this, he portrayed a vulgar Nike. Lal Gudi Jayaraman's Thalana brought about a change in mood.
Praveen was supported by a team of seasoned musicians – DS Srivatsa (Vocal), DV Prasanna Kumar (Natungam), Harsha Samaga (Mridingam), Mahesh Swamy (Flute), and Gopal Venkatraman (Vena).