Rithuk Raja performing at Mylapore Fine Arts Club in December 2022. He is accompanied by M Rajeev on violin, NC Bhardwaj on mridangam and Chandrasekhar Sharma on ghatam. | Photo credit: Raghunathan SR
Rithuk Raja concluded his two-hour vocal concert at Jhonpuri with Gopalkrishna Bharti's 'Ipu Varuvaru'. It was preceded by a dynamic Tani Avataram by NC Bhardwaj on Mridangam and Chandrasekhar Sharma on Ghatam. There's a reason I start this way.
The main piece for the Navaragmalika Varnam (Putnam Subramanya Iyer), Ragam Tanam Pallavi, which made the Tani a combination of Ragas with only the Tanam, and each raga having a string of swaras that came alternately or sequentially. . A short tanam in nine ragas – Sri, Mohanam, Balhari, Yedukulakumbuji, Kumbuji, Begada, Kalyani, Sankarabharanam and Kedaram – was followed by the swaraprastara in ascending and descending order.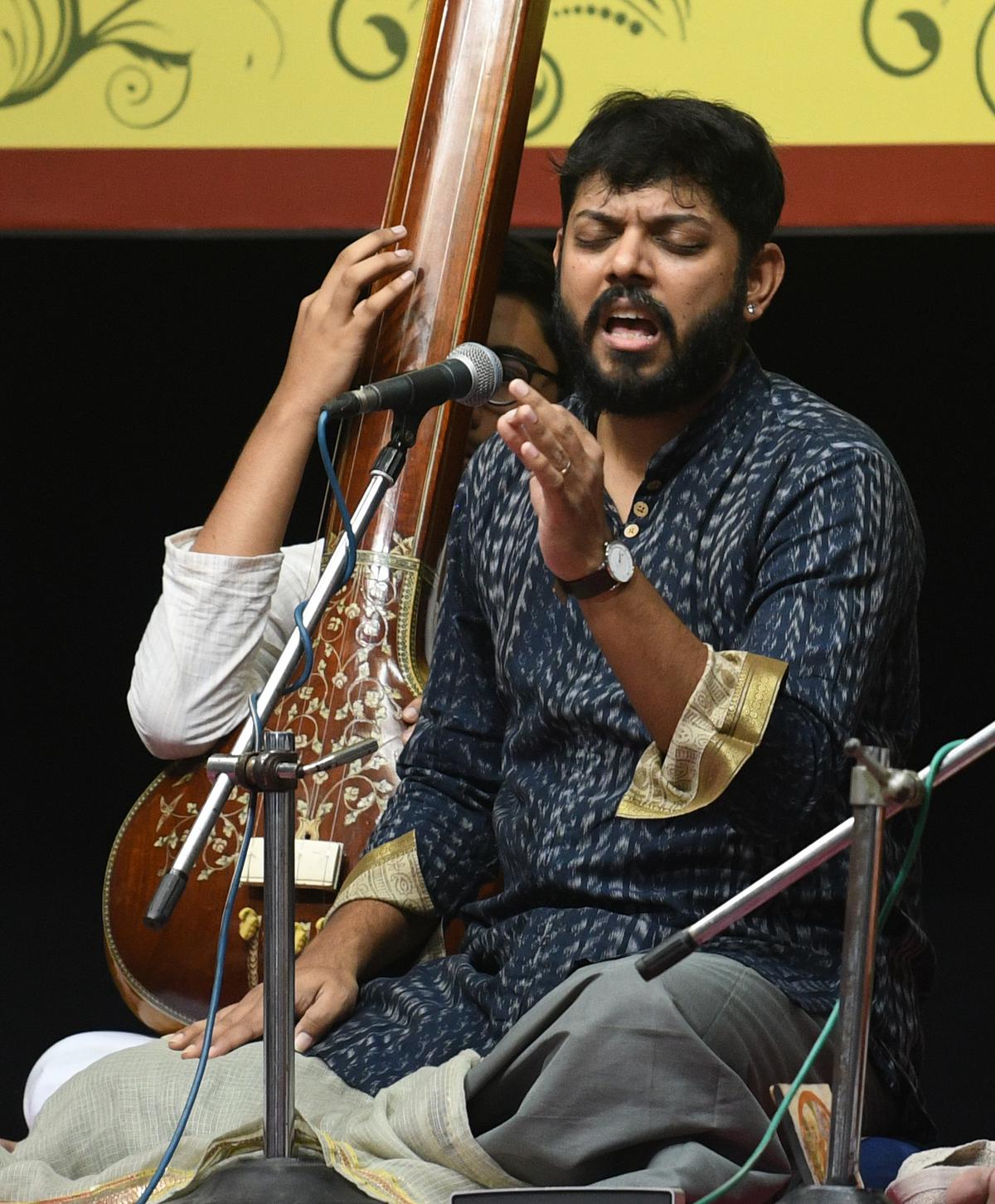 Rithuk Raja performing at Mylapore Fine Arts Club in December 2022. Photo credit: Raghunathan SR
Had Rithuk planned his Tanam segment well, he could have painted a richer picture of ragas. But the way the ragas and swaras were presented together gave little scope for the rasikas to enjoy them.
I was reminded of Bhairavi's extensive raga display followed by Tanam, 'Viribuni', for the Atta Tal Varnam, performed by Rithuk's mentor (TM Krishna) at a December season concert a few years ago.
It is important to mention the seating arrangement on the stage. The musicians, including the oppa-pakvadim artists, were seated in a semi-circle.
Rithuk rendered 'Nyama Meenakshi' in Ahiri, before singing Shyama Sastri's devotional 'Mayama'. Before that, there were cleverly crafted swara sallies focused on Dhyottam, who shined in Narwal in Tyagaraj's 'Seethapati' (Khams) in 'Premjuchi Naapai', the former a crisp alapana shared by Rithuk. Raja and violinist M. Rajiv did.
The concert opened with a tanam in natai leading up to 'Jagadanandakarka', again with an exchange of swar sahitya between sections, with Vijay playing the swars, and Rithik singing the sahitya. Rithik chose the last Charnam song which has the mudra of the saint musician. Fortunately, no swarkalpana was added.
It was a very democratic, inclusive, modern-day concert, if one could call it that. However, the way Rithuk Raja's musical skills and voice have gained depth and range cannot be understated. There was Rajiv's versatility on the violin and Bhardwaj and Chandrasekhara Sharma's percussion precision.