SM Vilasani performing at the Mylapore Fine Arts Club's Annual Margazi Festival, 2022. Photo credit: Jothi Ramalingam b
SM Vilasni opted for pleasant melodies and a relaxed pace for his opening evening concert at the Mylapore Fine Arts Club. Naiki and Subhapanthuvarali performed back-to-back, with only a short Kuntala varali in between, added to the silence.
Starting with Hamsadhavani varnam, Vilasani began at a slower tempo with Thirupavai, 'Murgzi Thetal' in Natai. He then performed GN Balasubrahmanyam's relatively brisk 'Saraswati Namosti' in raga Saraswati, before moving on to Mohanam.
An alapana, quite in technique, felt a bit long in the first half of the concert. Villasni's voice can open up in the upper octave, shedding barriers. And, when she tries to control her throw, her voice sinks.
Constructing each Sangati with variations in rhythmic style in Tyagaraja's 'Bhavanuta', Vilasni brings out the aesthetic nuances of Sahitya well. The Madhima Kala Swarakalpana in Pallavi begins with a short single avataranam and ends in a long phrase with an interesting kurvi. Arunachal Karthik on the violin matched them, and presented the riders with joy.
Dakshitra's 'Ranganayakam' at Nike was presented in his majestic yet relaxed gait. The percussion performance in Madhima Kalam 'Agnitha Suguna' was delightful.
Before starting the main kriti was the traditional Swift number Swati Tirunal's 'Bhogendra Senam' in Kuntalavarali. Not going into jet speed for this kriti helped Vilasni deliver a flawless Tasra Naadai.
Vilasni took Sabhapantovarali as the main raga of the day. A remarkable swarthanshadham can be heard in the phrases of Aakar in the passionate narration of the raga. The mood of the melody was sustained throughout Tyagaraj's 'Analu Yurake'. There were some Janatas and Burghas among the Neeravals and Swaras of 'Kunallu Skita Puramela'.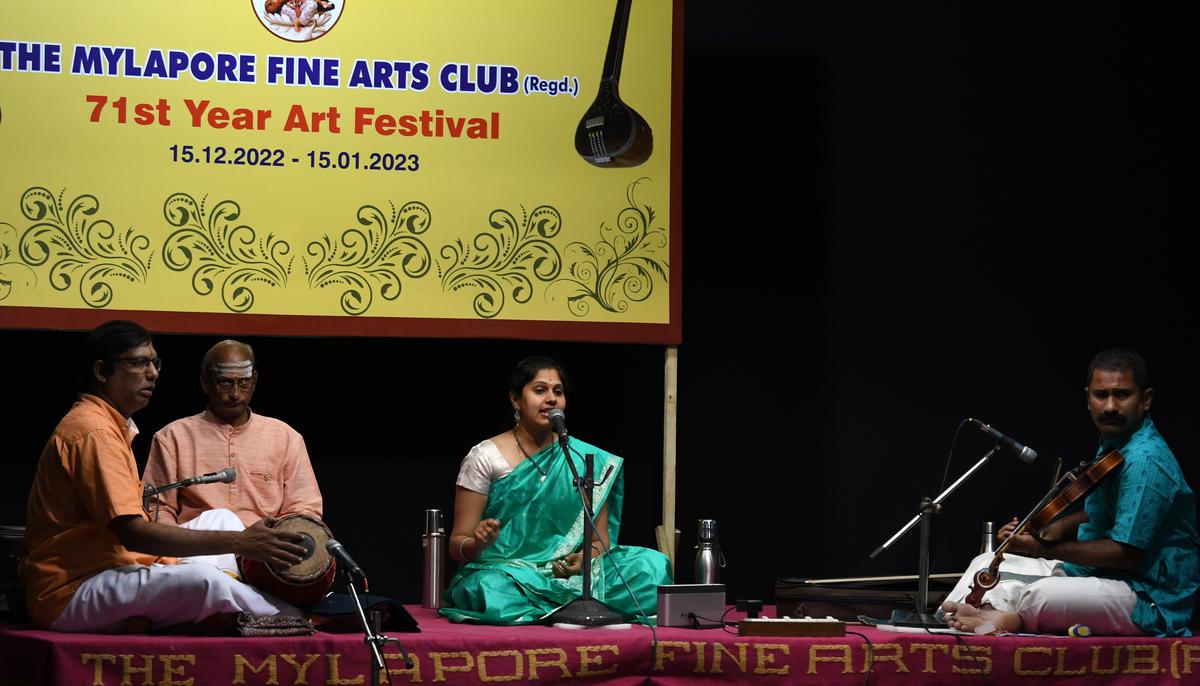 SM Vilasni with Arunachal Karthik, Madipakkam Suresh and Madipakkam Gopalkrishnan at the Mylapore Fine Arts Club, during the Annual Music Festival, 2022. Photo credit: Jothi Ramalingam b
Arunachal Karthik followed his imagination, while Madipakkam Suresh and Madipakkam Gopalakrishnan provided calm support on the mridangam and kanjira, respectively, with melodious phrasing that perfectly suited Kriti's lyrics – they gently asked Rama How long will they be restless?
In spite of all these places, momentary Sarvati problems came as a distraction. The quick and short tani was energetic. The ensembles' delicate playing of the songs and the skill they displayed during their solo parts were admirable.
Vilasni concluded his concert with Annamacharya's melodious 'Bhayami Gopala Balam' at Yamunakalyani.