Vijay Shiva performing at the Indian Fine Arts Society in Chennai in December 2022. Photo credit: Raghunathan SR
A purposeful career, shaped by good musical values ​​and a clear style, brings Vijay Shiva's concert to a satisfying conclusion. Indian Fine Arts Society. The concert had mixed moments, also due to some poor sound and audio balance.
The early pieces lacked conviction as Vijayasiva attempted kritis like 'Thera Thyaga Radha' (Golipinto, Tyagaraja) and 'Akanaina' (Pashpaltika, Tirupati Narayana Swamy). In 'Akalanga Niyu', the narwhal looked very animated. Only Sankarabharanam raga alapana stabilizes the first chapter and brings the desired solace.
Very few singers can stay within the pleasing arc and with the traditional accompaniments and jiva swaras. Vijay Shiva has teased his music in this direction and his rendition was captivating and brilliant. Violinist Sri Ram Kumar's Sankarabharanam was also bound by tradition. 'Bagomira Kanu Nathu' (Rupakam, Veena Kappear) had a steady madhima kaala song and Vijay's narwal in 'Nilwanimu' was pleasant.
Kriti's choices affect the effect of the concert, and one might have expected a more mainstream weighted Kriti on the day.
Vijay Shiva's main piece was 'Nanu Baru Lalita' in Syama Sastri's Viluma Chapu.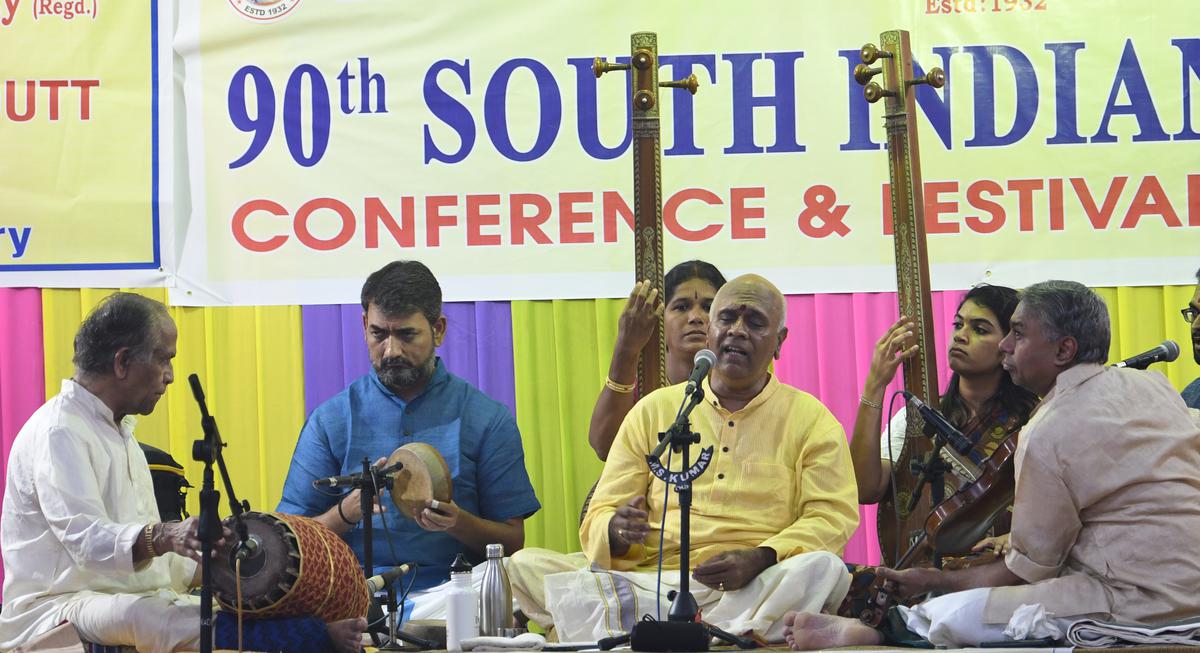 Vijay Shiva is performing at the Indian Fine Arts Society in December 2022. He is accompanied by Trichy Sankaran, KV Gopalakrishnan and RK Sriramkumar. | Photo credit: Raghunathan SR
With a soothing alapana prelude by both the singer and the violinist, the kriti flows like a river, concluding with a pregnant pause with swaras in 'Nannu Veena'. These aspects brought the concert to a Vijaya Shiva standard, with Veluma Chapu having a special allure.
Trichi Sankaran and KV Gopalakrishnan (Kanjira) have eloquently described the separate influences of Chapu and Karvai sites in Kriti.
Vijay Shiva's Kirwani raga alapana had a nice blend of low and high octave singing, which shows its sweetness. Shriramkumar's version was also detailed, but due to mispromotion of the audio system, Tara Asthai was slightly damaged.
The 'Jayathu Gokla Vasa' in Adi 2 Kalai (Purandardasa), though not commonly heard, has a charming composition and melody, and is well used by Vijayasiva. In 'Jeethu Sri Bholoka', the well was filled in Neeraval and Swars too.
After the mesmerizing veerutham on Rama in Shanmakhapriya, Ahri and Abhiri, Vijay Shiva surprises by singing his guru's greatest song, 'Bhajare Re Mansa' in Abhiri (Mysore Vasudevachar) at Dum's place. This helped him maintain a second-half high, scoring in Yamuna Kalyani with a very melodious 'Nanai Charnadintin' (Subramanya Bharti). The concert ended better than it seemed.
Acoustics at various stages pushed music out of the realm of sensitive listening. Trichy Sankaran's mridangam was clever and accompanied by singing. Musicians should certainly demand a more conducive audio environment in the venues where they perform — in this case, the Ethiraj Kalyana Mandapam.